Two persons were yesterday remanded to prison on a charge that they trafficked five women at the Diamond Hotel and Bar in Georgetown.
It was alleged that Rodwell Dempster and Fiona Hopkinson between September, 2017 and January, 2018, trafficked five Venezuelan women, who were brought to be commercial sex workers at the business.
Both Dempster and Hopkinson pleaded not guilty after they were arraigned before Chief Magistrate Ann McLennan in an in-camera hearing in Georgetown.
They were both remanded to prison and the proceedings were adjourned until January 22nd.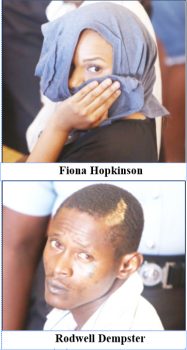 Forty-one women, all foreign nationals, were detained on January 5th after the Guyana Police Force raided the hotel and bar on George Street, Georgetown. At that point, police said they suspected that some of the women were victims of human trafficking.
It was the second time that the business was raided in less than a year. Last year May, the police had carried out a similar operation and they said four Venezuelan women, who were suspected to be victims of human trafficking, were rescued.
Comments

MELBOURNE, (Reuters) – The Australian team do not need to make wholesale changes to their cricket culture as a few tweaks should once again endear them to home fans, according to test captain Tim Paine.

(Barbados Nation) Three Caribbean airlines have formed an alliance which promises to make it easier and cheaper for travellers to move between 32 countries.

To guard its independence and neutrality from political interference the National Toshaos Council (NTC) has developed a political neutrality statement that was adopted by the executive during its just-concluded executive meeting, says its Vice-Chairman Lenox Shuman.

The Police Office of Professional Responsibi-lity (OPR) has launched an investigation into a report of "seemingly massive irregularities" in the Guyana Police Force's learner driver's theoretical examination last Thursday at the Felix Austin Police College, Georgetown.