Two persons were yesterday remanded to prison on a charge that they trafficked five women at the Diamond Hotel and Bar in Georgetown.
It was alleged that Rodwell Dempster and Fiona Hopkinson between September, 2017 and January, 2018, trafficked five Venezuelan women, who were brought to be commercial sex workers at the business.
Both Dempster and Hopkinson pleaded not guilty after they were arraigned before Chief Magistrate Ann McLennan in an in-camera hearing in Georgetown.
They were both remanded to prison and the proceedings were adjourned until January 22nd.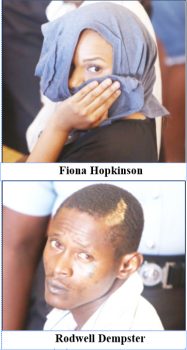 Forty-one women, all foreign nationals, were detained on January 5th after the Guyana Police Force raided the hotel and bar on George Street, Georgetown. At that point, police said they suspected that some of the women were victims of human trafficking.
It was the second time that the business was raided in less than a year. Last year May, the police had carried out a similar operation and they said four Venezuelan women, who were suspected to be victims of human trafficking, were rescued.
Comments

The legal team for former New Building Society (NBS) manager, Maurice Arjoon, who was wrongfully dismissed, have levied on the bank's assets in a bid to recoup the $59,033,000 pension owed to him by the financial institution.
An alleged inebriated farmer of 54 Strath Campbell Village, Mahaicony, ECD, died at about 3 pm  yesterday at Chance Village, Mahaicony, after a vehicle he was reportedly not given permission to drive, crashed into a utility pole.

MELBOURNE,  (Reuters) – Rafa Nadal's Australian Open quarter-final curse struck again on Tuesday, an injury forcing the top seed to retire in the fifth set against Croatia's Marin Cilic.

Several hundred more sugar workers are expected to be laid off from the Skeldon, Rose Hall, and East Demerara estates by next month and the Guyana Agricultural and General Workers Union (GAWU) yesterday urged that the decision be reviewed.

The commencement order establishing the Telecommunications Agency was signed last Friday, in anticipation of the liberalisation of the telecoms sector, Minister of Public Tele-communications Cathy Hughes announced yesterday.