As President David Granger entered Region Six yesterday morning, he was met with a line of PPP/C members and supporters, who staged a protest along the main road at the entrance to the Berbice Bridge.
President Granger and his entourage did not stop to interact with the protestors but opted to continue their journey to Fyrish, Corentyne, where he later commissioned a bus as part of his Five B's initiative.
The protestors told Stabroek News that they were seeking to voice their dissatisfaction with several government decisions and to ensure "betterment for all citizens" of the country. Zamal Hussain, PPP/C Regional Supervisor, said they will continue to protest when President Granger and Prime Minister Moses Nagamootoo visit the region to show their "discomfort with several issues" and he cited the unilateral appointment of the Guyana Elections Commission Chairman as one of them.
Hussain added that the protest was also on behalf of laid off sugar workers, who have been told that they will only receive half of their severance payments at the end of the month and the remainder in the second half of the year. "We are protesting for all of the severance for the sugar workers," he stressed. "This is not a favour by the government of Guyana; this is what the workers are entitled to and they should be paid immediately," he added.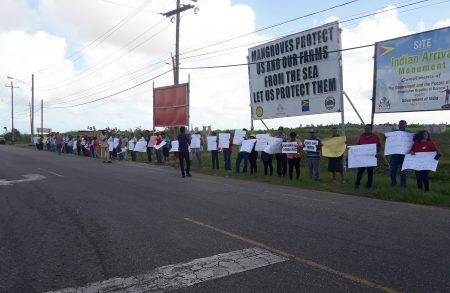 With the president visiting to commission a school bus at Fyrish Primary School, Corentyne, Hussain said buses are needed in areas that were drastically impacted by the recent closure of the sugar estates. "We are asking for transportation for the sugar workers' children so that this can assist them to go to school," he said.
In addition to this, Hussain said they were protesting for subsidies to be given on water and electricity utility payments for the laid off workers.
Meanwhile, Hussain also charged that the police delayed some of the party's supporters, who were expected to take part in the protest. He said they were travelling in a bus that was stopped at a roadblock somewhere along the Number 19 Village main road. The protestors arrived shortly after President Granger had passed the protest line.  One protestor said that the police had stopped the bus "and asked the driver a lot of questions and then let us come."
Comments

MELBOURNE, (Reuters) – The Australian team do not need to make wholesale changes to their cricket culture as a few tweaks should once again endear them to home fans, according to test captain Tim Paine.

(Barbados Nation) Three Caribbean airlines have formed an alliance which promises to make it easier and cheaper for travellers to move between 32 countries.

To guard its independence and neutrality from political interference the National Toshaos Council (NTC) has developed a political neutrality statement that was adopted by the executive during its just-concluded executive meeting, says its Vice-Chairman Lenox Shuman.

The Police Office of Professional Responsibi-lity (OPR) has launched an investigation into a report of "seemingly massive irregularities" in the Guyana Police Force's learner driver's theoretical examination last Thursday at the Felix Austin Police College, Georgetown.