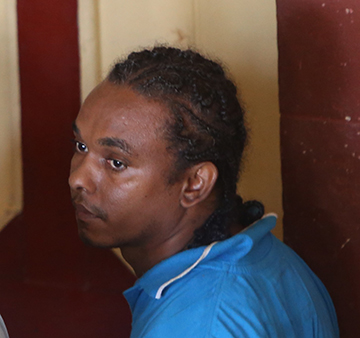 A Tucville man was yesterday charged with the rape of two women.
Thurston Semple, 33, of Tucville Terrace, was brought before Chief Magistrate Ann McLennan, who read the charges to him during an in-camera hearing in Georgetown.
It was alleged that Semple raped one of the women between November 30th, 2017 and December 1st, 2017, and the other between January 3rd, 2018 and January 4th, 2018.
Semple, who was represented by attorney Bernard Da Silva, was granted his release on $200,000 bail on each charge. His next hearing is scheduled for February 5th.
Comments

WASHINGTON, (Reuters) – The world's most powerful government shut down today after President Donald Trump and the U.S.

-number of redundant workers at 4,763 The National Assembly yesterday approved nearly $2 billion to facilitate full severance by the end of January for a little more than 1,600 of the 4,763 sugar workers that have been made redundant.

Following criticism over government's handling of the restructuring of the Guyana Sugar Corporation (GuySuCo), President David Granger and members of his Cabinet yesterday met with the leadership of the Guyana Agricultural and General Workers' Union (GAWU) and the National Association of Agricultural, Commercial and Industrial Employees (NAACIE) to discuss the future of the sugar industry.
An 18-year-old woman succumbed on Thursday evening, one day after she was allegedly beaten by her common-law husband during an argument at Baramita, in Region One (Barima-Waini).
In his absence, Ganesh Chaitram, who was charged with raping a 10-year-old girl in 2016, was yesterday sentenced to life in prison after a jury found him guilty of the crime.