Police say they destroyed 25,000 cannabis plants as well as over 200 pounds of dried cannabis on Friday, when they conducted drug eradication exercises in two Berbice River villages.
In a statement issued yesterday, the Guyana Police Force said the exercises were carried out in De Velde and Tabali villages.
According to the police, about four acres of cultivated cannabis were burnt. It was noted that approximately 25,000 plants, ranging from one foot to five feet in height, were destroyed as well as two camps and over 100 kilogrammes (equivalent to 220 pounds) of dried cannabis.
No arrest was made but investigators are said to be seeking to determine the ownership of the lands in order to move towards instituting charges.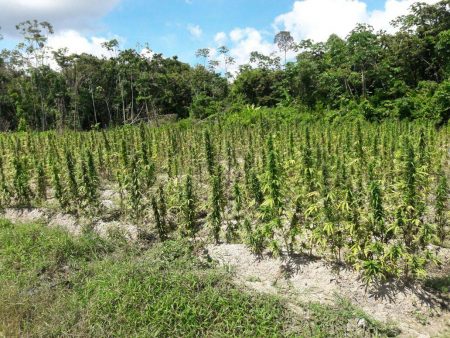 Comments

-number of redundant workers at 4,763 The National Assembly yesterday approved nearly $2 billion to facilitate full severance by the end of January for a little more than 1,600 of the 4,763 sugar workers that have been made redundant.

Following criticism over government's handling of the restructuring of the Guyana Sugar Corporation (GuySuCo), President David Granger and members of his Cabinet yesterday met with the leadership of the Guyana Agricultural and General Workers' Union (GAWU) and the National Association of Agricultural, Commercial and Industrial Employees (NAACIE) to discuss the future of the sugar industry.
An 18-year-old woman succumbed on Thursday evening, one day after she was allegedly beaten by her common-law husband during an argument at Baramita, in Region One (Barima-Waini).
In his absence, Ganesh Chaitram, who was charged with raping a 10-year-old girl in 2016, was yesterday sentenced to life in prison after a jury found him guilty of the crime.

City councillor Jameel Rasul says he will shortly be resigning his seat after being berated by his group, Team Benschop for going beyond the agreed six-month stint and voting in favour of the controversial parking meters deal.