Police say they destroyed 25,000 cannabis plants as well as over 200 pounds of dried cannabis on Friday, when they conducted drug eradication exercises in two Berbice River villages.
In a statement issued yesterday, the Guyana Police Force said the exercises were carried out in De Velde and Tabali villages.
According to the police, about four acres of cultivated cannabis were burnt. It was noted that approximately 25,000 plants, ranging from one foot to five feet in height, were destroyed as well as two camps and over 100 kilogrammes (equivalent to 220 pounds) of dried cannabis.
No arrest was made but investigators are said to be seeking to determine the ownership of the lands in order to move towards instituting charges.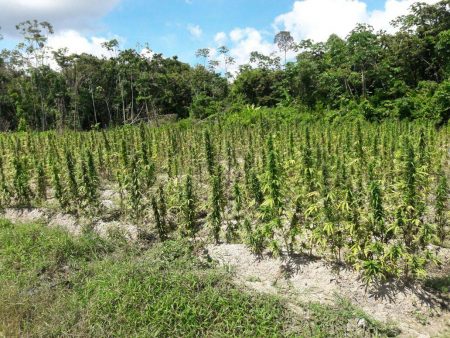 Comments

A young mother of two was yesterday morning stabbed to death at Belmont, Mahaica, East Coast Demerara, by her estranged husband, who later ingested a poisonous substance and succumbed.

With PPP/C parliamentarians filing private criminal charges against two government ministers, Opposition Leader Bharrat Jagdeo yesterday warned that it was just the beginning and also dared the APNU+AFC administration to bring criminal charges against him for his actions while he served as president.

Oldendorff Carriers, the German-based transshipment company used by Rusal for exporting bauxite from Guyana, has announced that it is "winding up" its operations here due to United States sanctions against the Russian aluminium producer.
The Ministry of Public Infrastructure (MPI) yesterday announced that refunding of passengers who were left in the lurch by Dynamic International Airways will begin on May 2nd.