Extensive damage to underground cables is responsible for the non-functional highway lights from Craig to Friendship, on the East Bank of Demerara, head of the Street and Highway Lights Department of the Ministry of Public Infrastructure Terrence O'Brien says.
Road users and residents who live along the East Bank have been complaining about the lack of lights along the public road for more than a year, while noting that it makes it difficult to navigate the road, which is potholed and sometimes populated by stray animals.
"The road is usually pitch dark in the nights and besides your car light and the lights from other oncoming traffic, you can barely see a thing and most of the time they have large potholes that you can't see, especially when it rains," Joseph Gordon, a bus driver, who frequently uses the highway, told Stabroek News.
Other motorists have shared similar sentiments, with some noting that their vehicles have often dropped into potholes because they were not able to see them.
"I ride a bike, so me light not as bright as them car man and so when is me riding alone on the road is really difficult. I drop in hole nuff times and nearly fall off of my bike. They need them lights back fast because it could cause a serious accident," a motorcyclist said.
However, O'Brien explained that the lights are currently off due to the underground cables being damaged.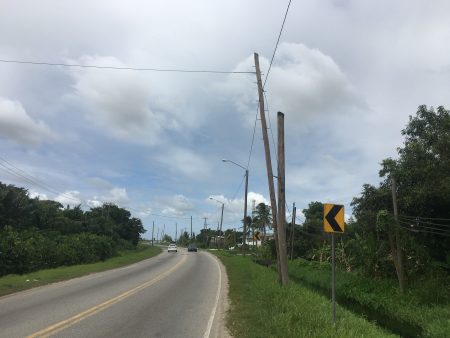 "The underground system is not good. What we tend to do though is replace the cable and we are going to put the cables overhead because the integrity of the system underground is not sound," he said, while stating that the ministry has already starting the procurement process to purchase the cables and other equipment to get the lights functioning again.
O'Brien added that the department will be replacing damaged poles along the East Bank corridor as part of its 2018 programme and the issue at Craig and other areas along the highway are expected to be addressed soon.
"We average to start in the first week of next month. Within one month, we should start an extensive maintenance programme and we should get our cables and other equipment by then," he said, while pointing out that by the end of April, citizens should notice a significant difference along the East Bank highway.
He also noted that the conventional lights will be replaced with LED lights as part of a collaboration with the Guyana Energy Agency.
Like the East Bank corridor, other parts of the country have malfunctioning street lights. This, O'Brien, said is as a result of several issues, with the key one being accidents.
He pointed out that on numerous occasions there are accidents where vehicles hit utility poles, damaging individual lights and affecting the other lights. He also noted that the department has found instances where persons dig up their cables and steal them. "We have reports that people are stealing our distribution wires and are using them on their homes," he said, while indicating that this is why they have decided to run the wires overhead.
Comments

A young mother of two was yesterday morning stabbed to death at Belmont, Mahaica, East Coast Demerara, by her estranged husband, who later ingested a poisonous substance and succumbed.

With PPP/C parliamentarians filing private criminal charges against two government ministers, Opposition Leader Bharrat Jagdeo yesterday warned that it was just the beginning and also dared the APNU+AFC administration to bring criminal charges against him for his actions while he served as president.

Oldendorff Carriers, the German-based transshipment company used by Rusal for exporting bauxite from Guyana, has announced that it is "winding up" its operations here due to United States sanctions against the Russian aluminium producer.
The Ministry of Public Infrastructure (MPI) yesterday announced that refunding of passengers who were left in the lurch by Dynamic International Airways will begin on May 2nd.