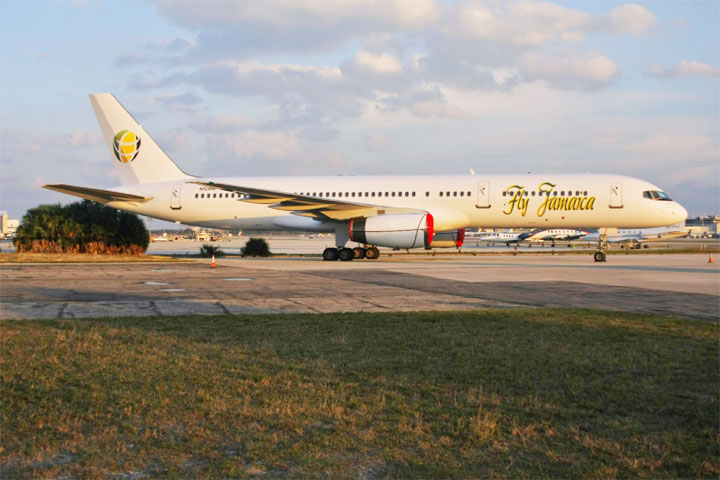 Fly Jamaica hopes to clear its passenger backlog today and return to normal operations tomorrow, according to its Commercial Operations Manager Carl Bowen.
He was yesterday offering an update on the delayed and cancelled flights that passengers traveling with the airline have been facing over the last week.  Fly Jamaica, which has Guyanese principals, has been affected by scheduled and unscheduled maintenance of its planes and a winter storm in New York.
Bowen noted that a flight is scheduled for this morning that would see passengers for both New York and Toronto being able to depart Guyana, thus clearing the backlog by more than 90%.
But even as the airline says it is working to engage its passengers through a recently established 24-hour call centre, customers continue to say they are unable to reach the company.
Just last week, the management of Fly Jamaica was summoned to a meeting with officials of the Guyana Civil Aviation Authority (GCAA) after reports of an increase in flight cancellations and delays in recent weeks.
Coming out of the meeting was the decision by the airline to implement a 24-hour call centre for passengers in Guyana to get updates and other information regarding their bookings with the Airline. Fly Jamaica officials also committed to contact passengers and provide them with updates on their flight bookings.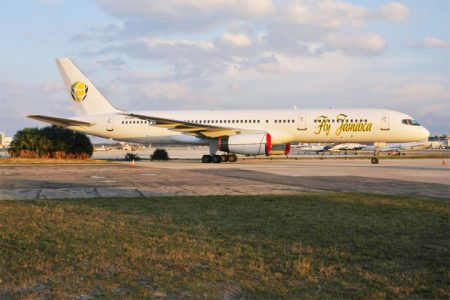 According to the lead letter in yesterday's edition of Stabroek News, which was written by S Joseph, his attempts to contact the airline through its hotline were futile since the numbers kept ringing out.
"My family, like so many other passengers, have been stranded in the USA for almost two weeks. It was only after the intervention of the GCAA that the airline thought it fit to announce the establishment of '24 hour hotlines' here in Guyana.
To add insult to injury, the so-called hotline has been ringing out constantly over a period of days. Why say you have '24 hour hotlines' if nobody is there to respond? This is a case of lip-service and utter disrespect. Passengers are in dire need of information," the man wrote.
When asked to comment on this, Bowen told Stabroek News that he is aware of the complaints and has promised to once again check in with the call centre.
In the meantime, he was pleased to report that the call load has significantly decreased, thus shortening the waiting time for those calling the hotline.
Meanwhile, passengers in Jamaica have taken a different route in venting their frustration with the airline as they staged a protest yesterday morning at the Norman Manley International Airport in Kingston.
According to the Jamaica Observer, the protest occurred early yesterday morning as passengers were left fuming after their flight which was set for the morning was delayed until that afternoon. They started to chant, "We want justice."
However, the Observer wrote that Fly Jamaica's Chief Executive Officer (CEO) Captain Paul Reece refuted the claims that the flight was to leave on Thursday.
"That is not true. The airplane was rented to move the passengers and they behaved in a disorderly manner. They threatened the crew last night and the crew said they are going home and that is why the flight wasn't done," Reece said.
He further explained that there was one person on board the flight who did not have a green card and when he was taken off the flight, he started to behave "badly."
"They started tripping the cabin attendant in the aisle as they walked, so the flight crew and cabin crew said they aren't doing the flight anymore…The plane was there from the since last night ready to take them but if they want to behave in a disorderly manner what more can the crew do?  There are rules since 9/11 about unruly passengers," Reece told the Observer.
The CEO also pointed out that if the passengers are behaving in an irrational manner then the crew may very well cancel the flight again.
"Things cannot go on like this; if you want to travel just stay quiet, get where you're going and keep moving on," he added.
Comments

A young mother of two was yesterday morning stabbed to death at Belmont, Mahaica, East Coast Demerara, by her estranged husband, who later ingested a poisonous substance and succumbed.

With PPP/C parliamentarians filing private criminal charges against two government ministers, Opposition Leader Bharrat Jagdeo yesterday warned that it was just the beginning and also dared the APNU+AFC administration to bring criminal charges against him for his actions while he served as president.

Oldendorff Carriers, the German-based transshipment company used by Rusal for exporting bauxite from Guyana, has announced that it is "winding up" its operations here due to United States sanctions against the Russian aluminium producer.
The Ministry of Public Infrastructure (MPI) yesterday announced that refunding of passengers who were left in the lurch by Dynamic International Airways will begin on May 2nd.