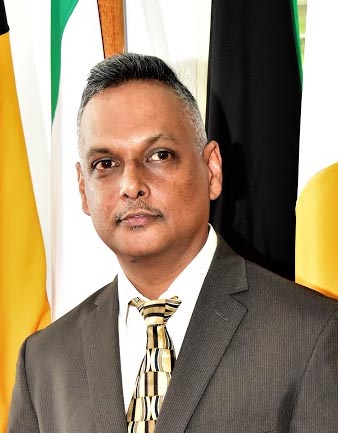 Former Magistrate and University of the West Indies (UWI) lecturer Christopher Arif Bulkan was yesterday sworn in as a temporary Appellate Judge by President David Granger who said that the appointment is part of efforts to ensure that justice is dispensed in an efficient and timely manner.
"The efficient and timely dispensation of justice by courts is a fundamental basis of our law-based system… An efficient and independent judiciary ensures that citizens have access to justice and that this access is fair and swift," Granger said during the swearing in ceremony at State House.
Justice Bulkan will sit in the Court of Appeal for a period of six months commencing from yesterday and given his full-time commitment to UWI, there may be no possibility for the extension of his time there. Justice Bulkan's appointment brings the court's complement to five. The other appellate judges are Acting Chancellor Yonette Cummings-Edwards, Chief Justice (ag) Roxane George, Justice Dawn Gregory and Justice Rishi Persaud.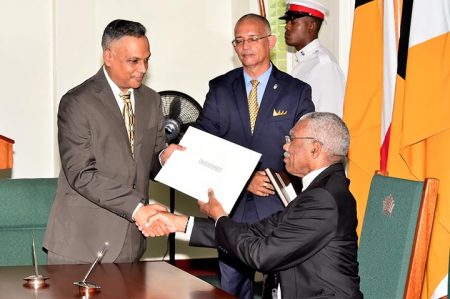 In delivering brief remarks after Justice Bulkan took the oath of office, Granger said that a full complement of judges, magistrates and legal officers promotes judicial efficiency and public confidence in the rule of law.
The President said that Bulkan's appointment is provided for in the constitution and he singled out Articles 128(1) and (2).
Article 128(1) of the Consti-tution provides that judges, other than the Chancellor and Chief Justice, are appointed by the president, "who shall act in accordance with the advice of the Judicial Service Commission." Article 128(2) also provides that "the President shall act in accordance with the advice of the Judicial Service Commission and appoint a person to act in the office of Justice of Appeal or Puisne Judge, as the case may be."
Granger added that the Constitution also makes provisions for protecting and preserving the independence, impartiality and integrity of the judiciary. "This ceremony therefore is an affirmation of the government's commitment to ensuring that the judicial system remains independent," he said.
Justice Bulkan later explained to reporters that his appointment is not unique. "It's not the first time it has happened…It is a similar process, you have to be interviewed by the Judicial Service Commission and the Commission, which is made up of five members, makes a recommendation to the president," he said when asked to explain how it was that he was chosen to be a judge. Prior to the appointment there was no indication that the JSC was looking to boost the complement of the court nor that the body was reviewing applications.
While speaking to reporters, the Appellate Judge expressed hope that he will be able to assist in clearing up the existing backlog at the Court of Appeal, which he said is integral to his appointment.
Justice Bulkan said that sitting as an Appellate Judge was not really an ambition of his while pointing out that he has a long history of public service. In addition to his magistracy position, he was previously attached to the Chambers of the Director of Public Prosecutions (DPP) up until 1996. Thereafter, he practised privately for several years before embarking on studies in the area of land rights.
He expressed certainty that he will get a lot done during his stint. "I think that's the idea, yes. It will mean less adjournments," he said.
Justice Bulkan, who is also a well-known human rights advocate, with successes in the courts in this area, said that at the moment he doesn't believe that there is a possibility that his stint will be extended. "I am a full-time lecturer at the University of the West Indies. So it is a temporary six-month appointment."
According to the UWI website, Bulkan joined the Faculty of Law at the Cave Hill campus of the University of the West Indies in September 2008 and transferred to the St Augustine campus in January 2012 where as a senior lecturer he currently teaches Constitutional Law, Commonwealth Caribbean Human Rights Law, International Human Rights Law and Law and Legal Systems in the LLB programme.
Attorney General Basil Williams SC who was among members of the legal fraternity on hand to witness the appointment, told reporters that he has confidence that Justice Bulkan can perform excellently as he knows him as a legal practitioner.
Hearings at the Court of Appeal came to a halt in February last year  following the retirement of then Acting Chancellor Carl Singh and Justice BS Roy, leaving Justice Cummings-Edwards as the only sitting Appellate Judge. Three such judges are required to hear a case. The court resumed its work in May that year following the appointments of Justices George and Barnes. Justice Persaud was appointed in July last year.
Comments

Former President Donald Ramotar yesterday said that the contract he signed with Canadian oil explorer, CGX followed a template for all agreements clinched before petroleum was discovered in 2015 and its release is a "lame" attempt by the government to compare it with the 2016 one signed with ExxonMobil  following the major hydrocarbon discovery in 2015.
The Guyana Sugar Corporation and the Special Purpose Unit (SPU) of NICIL are at loggerheads again over control of the estates which last weekend saw GuySuCo security barring SPU contracted engineers and other workers from entering the Enmore Estate.

A 21-year-old disc jockey lost his life during the wee hours of yesterday after the vehicle he was returning home in toppled several times before coming to a halt in a drain at Number 6 Village, West Coast Berbice (WCB).

An early Sunday morning vehicular accident on the Vreed-en- Hoop, West Coast Demerara public road has claimed the life of a 28-year-old  female, Donikel Campbelle 28, of Ann's Grove, East Coast Demerara.
Two business owners, who claimed that they went ahead and constructed a supermarket with their own cash based on an oral assurance by the then Chief Executive of GBTI that the financial institution would have granted them a loan, have lost a High Court case and now have to repay the bank more than $56 million plus interest and costs.