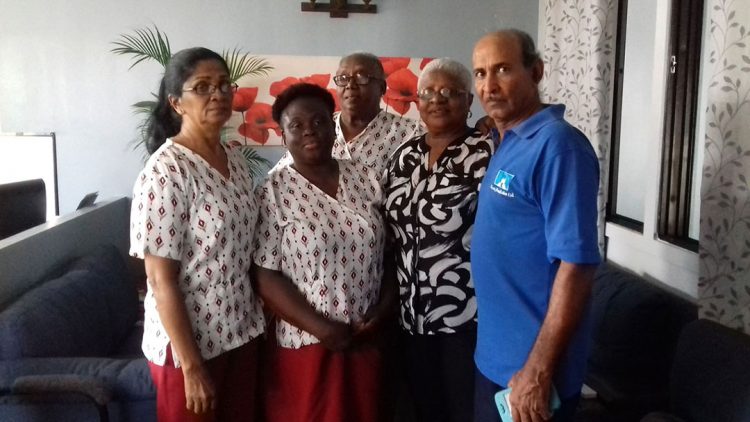 The final days for cancer patients can be consumed by pain and loneliness. But for the past 32 years, the Beacon Foundation has been delivering relief and support to terminally ill cancer patients around Guyana with its domiciliary hospice care.
The Beacon Foundation was established by Clairmont Lye along with Doreen de Caires.
It was said that Lye, having travelled overseas and seen the care being administered to cancer patients, juxtaposed it with the local reality, and was moved to introduce domiciliary hospice care in Guyana…..
To continue reading this article
Comments

Former President Donald Ramotar yesterday said that the contract he signed with Canadian oil explorer, CGX followed a template for all agreements clinched before petroleum was discovered in 2015 and its release is a "lame" attempt by the government to compare it with the 2016 one signed with ExxonMobil  following the major hydrocarbon discovery in 2015.
The Guyana Sugar Corporation and the Special Purpose Unit (SPU) of NICIL are at loggerheads again over control of the estates which last weekend saw GuySuCo security barring SPU contracted engineers and other workers from entering the Enmore Estate.

A 21-year-old disc jockey lost his life during the wee hours of yesterday after the vehicle he was returning home in toppled several times before coming to a halt in a drain at Number 6 Village, West Coast Berbice (WCB).

An early Sunday morning vehicular accident on the Vreed-en- Hoop, West Coast Demerara public road has claimed the life of a 28-year-old  female, Donikel Campbelle 28, of Ann's Grove, East Coast Demerara.
Two business owners, who claimed that they went ahead and constructed a supermarket with their own cash based on an oral assurance by the then Chief Executive of GBTI that the financial institution would have granted them a loan, have lost a High Court case and now have to repay the bank more than $56 million plus interest and costs.