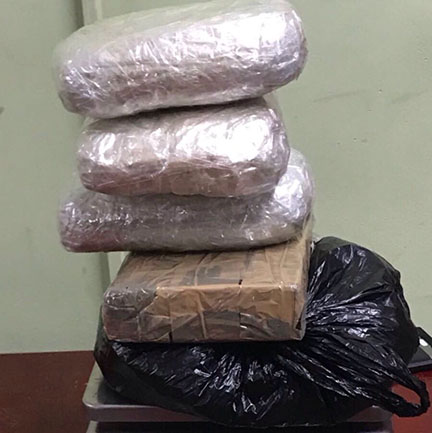 The ownership of over $7 million in local and foreign currencies and several vehicles that were all seized during a raid by the Customs Anti-Narcotics Unit (CANU) at Soesdyke, East Bank Demerara on Friday has raised questions and a separate probe is expected to be launched.
CANU agents on Friday arrested three persons, including a brother and sister, following the discovery of over 10 pounds of suspected cocaine during the operation.
The agency, in a statement, said Junior Owen Singh, his sister Nickela Craig-Singh and another individual were taken into custody during the operation, which saw the discovery of five kilogrammes (equivalent to 11.0231 pounds) of suspected cocaine, $7 million in local currency, US$800 and at least four vehicles suspected to be owned by Junior Owen Singh.
A source told Stabroek News that acting on information received, CANU agents conducted a search on a house belonging to Nickela Craig-Singh and the suspected cocaine was found hidden in the roof.
During questioning, she reportedly told the ranks that her brother gave her the substance to keep. She also provided them with his whereabouts.
A subsequent search was conducted at his place of residence, where the large sum of cash and the vehicles were discovered. The man was questioned about where he obtained the cash and vehicles from and was unable to provide any useful information. As a result, he was taken into custody.
While charges are likely to be laid against Craig-Singh, Stabroek News was told that her brother would be the focus of a money laundering probe.
Comments
An electrical contractor of Enmore/Hope, East Coast Demerara, who was robbed and shot about 1 pm today at Foulis, ECD, is presently admitted in a stable condition at a private medical institution in Georgetown, the police said today.

The recent poisoning of 18 bearing coconut trees by persons at Hope Estate was today condemned  by Minister of Agriculture, Noel Holder.
The Guyana Police Force is informing members of the public that in order to facilitate activities relating to the Mashramani float parade 2018 the following intersections will be closed to vehicular traffic from 6:00h until the end of the days' activities;Camp Street & Thomas land Albert Street & Wooldord Avenue Sandy Bobb & Vlissegen Road Sandy Bobb & J.B Singh Barr Street & Vlissengen Road Dowding & Vlissengen Road Station Street & Vlissengen Road Lamaha street & Vlissengen Road Woolford Avenue & Vlissengen Road Woolford & J.B Singh Anira & Irving Streets Laluni & Irving StreetsThe Following roads will also be closed to facilitate the float parade; u  Crown & Irving streets u  Almond & Irving Streets u  Forshaw & Irving Streets u  Church Street & Vlissengen Road u  North & Vlissengen Roads u  Regent Street & Vlissengen Road u  South & Vlissengen Road u  Brickdam & Vlissengen Road u  Homestretch Avenue & Vlissengen Road u  Hadfield & Vlissengen Road u  Mandela Avenue & Vlissengen Road  

(Trinidad Guardian) Joint police and Defence Force patrol camps are remaining in East Port-of-Spain permanently and will be supplemented as necessary, Minister in the Office of the Prime Minister Stuart Young says.

Auditor General Deodat Sharma says that he is awaiting some information from Homestretch Development Inc (HDI) before he completes his investigation of the controversial billion-dollar D'Urban Park Development Project.