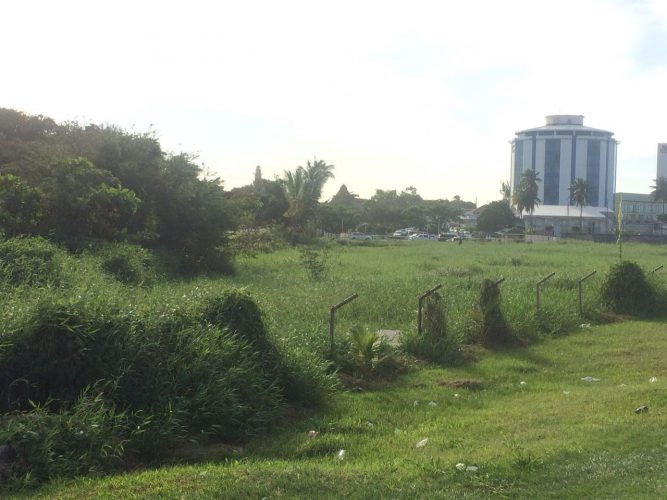 In preparation for Guyana's emerging oil and gas sector and the bustling business usually synonymous with the industry, the Pegasus Hotel is expected to undergo a huge expansion which includes office and residential rental spaces.
"There is a major project in the pipeline where there would be large complex … with a blend of the hotel, office space and residential space," a source told Stabroek News.
This newspaper yesterday visited the hotel but was told that proprietor Robert Badal was not available at the moment.
Another source told Stabroek News that the project would be in two phases which would see two buildings being erected on the lands aback of the hotel facing the Atlantic Ocean.
"The main building would be there but the walls and the part which had the tennis court and the house would be flattened,"  the source said.
It was explained too that lands which form a right angle triangle from where the car park ends to the beginning of the seawall bandstand area and along the fence to where NCERD begins would house a huge high-rise office building with an ocean view.
Sources say that Republic Bank is working with the company to provide funding which would be over "hundreds of millions of dollars".
In 2009, a consortium of overseas and local investors led by Badal bought the Pegasus Hotel for an undisclosed sum of money.
In 2010, Badal said that he borrowed US$8M to purchase and do rehabilitative works at the 130-room hotel.
But under his ownership and management the hotel faced much criticism from former President Bharrat Jagdeo who had also berated him for alleged sub-standard service.
According to Badal, Jagdeo was openly promoting the business of the Princess Hotel, with the casino gambling legislation passed under his administration in order to make the Princess's precursor—Buddy's Hotel—attractive to the eventual buyer.
Later, Jagdeo also used the Pegasus as a justification for why the government was building the Marriott Hotel saying that a 5-star hotel was needed in the country and that Badal's rooms had leaks and other maladies.
After Jagdeo left office and President Donald Ramotar took the reins in 2011, Badal continued to complain that his business was still being marginalized by the then PPP/C administration.
The Alliance for Change backer in 2012 alleged that his business was being discriminated against by the Tourism Ministry and he called on Ramotar to remove then acting minister of Tourism Irfaan Ali.
He had stressed that the PPP/C could not separate party from politics and was using its office to stymie his business, an act that he called on the private sector to condemn.
But in subsequent interviews with the press, Badal said that he would continue to press on since he had risen above many difficulties throughout his business life and yet thrived and thus believed the Pegasus would continue to flourish.
Staff at the hotel said that although the Marriott Hotel is  nearby, the hotel "maintains its own" and has "a consistent occupancy rate".
According to the Pegasus Hotel's website, it was first owned by British Overseas Airways Corporation and opened its doors for business on 1st November, 1969 after being built by renowned British construction firm, Taylor Woodrow.
It said that the Pegasus …changed owners several times before Badal's purchase. "From its initial owner, British Overseas Airways Corporation, to Trust House Forte Group of Hotels, to the French Group Le Meridién managed by Starwood Hotels.  After 40 years, Pegasus Hotel Guyana is now owned by Guyanese Entrepreneur Robert Badal, who has pledged to continue its tradition as the country's foremost hospitality house," the website states.
Boasting of having served guests from all walks of life including the very rich and famous, the Pegasus names Queen Elizabeth II of the United Kingdom of Great Britain and Northern Ireland, former President of the United States of America Jimmy Carter, Bollywood legend Amitabh Bachchan, and pop star Mick Jagger as just some that have enjoyed its comfort.
Comments
An electrical contractor of Enmore/Hope, East Coast Demerara, who was robbed and shot about 1 pm today at Foulis, ECD, is presently admitted in a stable condition at a private medical institution in Georgetown, the police said today.

The recent poisoning of 18 bearing coconut trees by persons at Hope Estate was today condemned  by Minister of Agriculture, Noel Holder.
The Guyana Police Force is informing members of the public that in order to facilitate activities relating to the Mashramani float parade 2018 the following intersections will be closed to vehicular traffic from 6:00h until the end of the days' activities;Camp Street & Thomas land Albert Street & Wooldord Avenue Sandy Bobb & Vlissegen Road Sandy Bobb & J.B Singh Barr Street & Vlissengen Road Dowding & Vlissengen Road Station Street & Vlissengen Road Lamaha street & Vlissengen Road Woolford Avenue & Vlissengen Road Woolford & J.B Singh Anira & Irving Streets Laluni & Irving StreetsThe Following roads will also be closed to facilitate the float parade; u  Crown & Irving streets u  Almond & Irving Streets u  Forshaw & Irving Streets u  Church Street & Vlissengen Road u  North & Vlissengen Roads u  Regent Street & Vlissengen Road u  South & Vlissengen Road u  Brickdam & Vlissengen Road u  Homestretch Avenue & Vlissengen Road u  Hadfield & Vlissengen Road u  Mandela Avenue & Vlissengen Road  

(Trinidad Guardian) Joint police and Defence Force patrol camps are remaining in East Port-of-Spain permanently and will be supplemented as necessary, Minister in the Office of the Prime Minister Stuart Young says.

Auditor General Deodat Sharma says that he is awaiting some information from Homestretch Development Inc (HDI) before he completes his investigation of the controversial billion-dollar D'Urban Park Development Project.