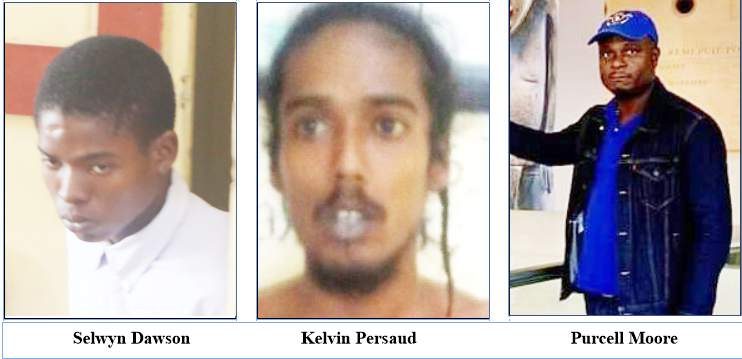 A joint murder charge was yesterday laid against two men who were earlier in the year charged separately with the murder of French Guiana-based clothing vendor Purcell Moore.
Chief Magistrate Ann McLennan read the joint charge to Kelvin Persaud, 21, and Selwyn Dawson, also 21, after police prosecutor Neville Jeffers stated that the Director of Public Prosecutions (DPP) advised that the separate charges be withdrawn and the joint charge instituted.
Subsequent to the separate charges being withdrawn, the Chief Magistrate read the joint charge, which alleged that Persaud and Dawson on December 20th, 2017, at Old Road, Craig, murdered Moore.
Neither of the accused was required to enter a plea to the indictable charge.
After a report from prosecutor Jeffers, the magistrate remanded both accused to prison and the matter was then adjourned until January 29th.
Moore was attacked around 7 am, at Old Road, Craig, not far from his parents' home.
Initial investigations, police said, revealed that Moore was on his way home when he was confronted by the suspects, one of whom was armed with a handgun.
An argument reportedly erupted between the victim and the suspects and it escalated into a scuffle, during which the armed suspect allegedly discharged several rounds at the victim.
The victim was subsequently rushed to the East Bank Demerara Regional Hospital and was pronounced dead on arrival. He had arrived a few days earlier from Cayenne, French Guiana.
Comments

(Trinidad Guardian) Former T&T and Manchester United footballer Dwight Yorke yesterday denied he entered into any contract with Chutney Monarch Neval Chatelal to loan him money to pay off a debt following his Island Vibe fete last year.

For the limited reopening of the Skeldon and Enmore sugar estates next month, government is in the process of borrowing some $10B to 15B from local commercial banks here, Minister of Finance Winston Jordan says.

A 38-year-old electrical contractor narrowly escaped death yesterday after he was shot and robbed of $600,000 by two motorcycle bandits who trailed him from a bank before cornering him at his Enmore, East Coast Demerara (ECD) worksite.
Guyana has registered its highest score on the Transparency International (TI) Corruption Index Report but even with a mark of 38 and ranking at 91 out of 180 countries it is still viewed as a very corrupt country.
Guyana's appeal over the constitutionality of presidential term limits will now be heard on March 12 by the Caribbean Court of Justice (CCJ), according to the Trinidad-based court's schedule of sittings.