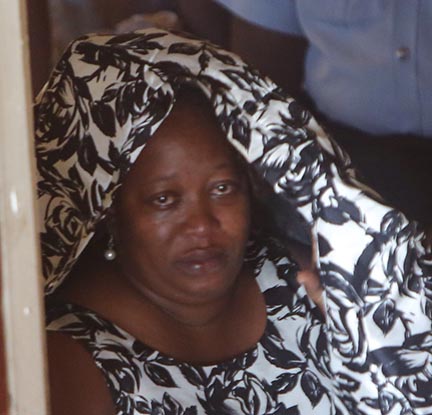 Andrea Paula Winfield, a Plaisance woman who had been intercepted while trying to smuggle just over five pounds of cocaine aboard a flight to Canada, was yesterday sentenced to three years in jail after she was found guilty of the crime.
Winfield was also fined $3.8 million for the offence, which was committed at the Cheddi Jagan International Airport (CJIA) in late 2016.
The charge against Winfield, of Lot 12 Prince William Street, Plaisance, East Coast Demerara, had stated that on December 16th, 2016, at the CJIA, she had in her possession 2.548 kilogrammes of cocaine (equivalent to 5.6 pounds), for the purpose of trafficking.
According to the prosecutor's case, Winfield was an outgoing passenger at the CJIA. It was noted that a Customs Officer had asked her for the Canadian address she was visiting and she failed to answer the question. The customs officer became suspicious and proceeded to check her luggage, where the cocaine was found and Winfield was arrested. Winfield was found guilty at the conclusion of her trial by Magistrate Annette Singh, who handed down the sentence and fine in Georgetown yesterday.
Comments

Former President Donald Ramotar yesterday said that the contract he signed with Canadian oil explorer, CGX followed a template for all agreements clinched before petroleum was discovered in 2015 and its release is a "lame" attempt by the government to compare it with the 2016 one signed with ExxonMobil  following the major hydrocarbon discovery in 2015.
The Guyana Sugar Corporation and the Special Purpose Unit (SPU) of NICIL are at loggerheads again over control of the estates which last weekend saw GuySuCo security barring SPU contracted engineers and other workers from entering the Enmore Estate.

A 21-year-old disc jockey lost his life during the wee hours of yesterday after the vehicle he was returning home in toppled several times before coming to a halt in a drain at Number 6 Village, West Coast Berbice (WCB).

An early Sunday morning vehicular accident on the Vreed-en- Hoop, West Coast Demerara public road has claimed the life of a 28-year-old  female, Donikel Campbelle 28, of Ann's Grove, East Coast Demerara.
Two business owners, who claimed that they went ahead and constructed a supermarket with their own cash based on an oral assurance by the then Chief Executive of GBTI that the financial institution would have granted them a loan, have lost a High Court case and now have to repay the bank more than $56 million plus interest and costs.