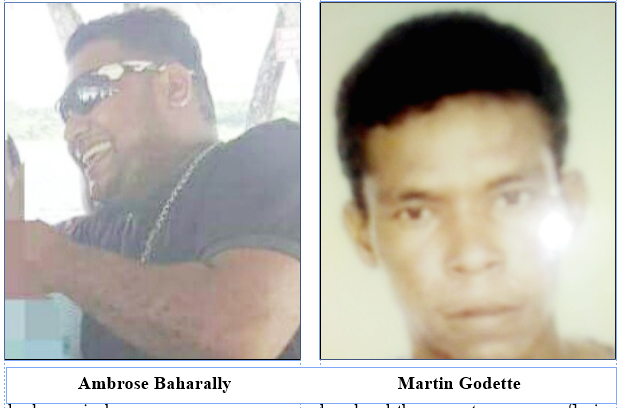 The three suspects held in connection with the murders of Pomeroon farmers Ambrose Baharally and Martin Godette were released on station bail on Saturday as police continue to investigate.
Commander of 'G' Division Khali Pareshram yesterday told Stabroek News that the suspects, including Baharally's widow, were released based on recommendations given by the Director of Public Prosecutions (DPP).
Pareshram said that in addition to investigators conducting further investigations, the police are awaiting the results of the ballistics tests that were conducted. "We know who we are looking for, yes, but right now we are waiting on the results of the ballistics test and swab test, which [are] not yet completed," he said.
Baharally, 28, of Grant Stelling, Hope Lower Pomeroon, and Godette, 23, of Friendship Canal, Lower Pomeroon were discovered dead with gunshot wounds to their heads around 3 pm on Sunday on January 14th, at Baharally's residence.
They were later taken to the Charity Hospital, where they were pronounced dead on arrival.
The police have said that a preliminary investigation revealed that the victims were seen conversing with two suspects. Shortly after, two loud explosions were heard and the suspects were seen fleeing the scene in a boat.
Last Tuesday, investigators were led to an area where they discovered an arms cache.
In a press release, the police had said that as a result of questioning, one of the suspects took investigators to a location where a bag was found with a 9 mm pistol, a .38 revolver, 16 live cartridges, 21 live .38 rounds, 19 live 9 mm rounds, six live .32 rounds, two 9 mm spent shells and 51.5 grammes of cannabis.
The bag with the items is believed to have been owned by Baharally since they were found in an abandoned yard some 40 feet away from his home.
The motive for the killings remains unclear but from all indications police say it seems as if the dead men knew their killers.
Stabroek News was told that the murders might have been drug related and a source from the Customs Anti-Narcotic Unit (CANU) confirmed that the agency was investigating to determine whether the killings were linked to the January 2nd cocaine bust at Pomeroon, where 11 kilogrammes of cocaine were found during a raid. When contacted for an update yesterday, the source related that there had not been much progress with the probe.
Comments

(Trinidad Guardian)  "Dwight, I forgive you." So stated reigning Chutney Soca Monarch Neval Chatelal in an open letter to former T&T and Manchester United striker Dwight Yorke yesterday, following the repayment of a $250,000 loan.

Fireworks in the background this morning after the Golden Arrowhead was hoisted at D'Urban Park marking the 48th anniversary of the country's Republican status.

The controversial Production Sharing Agreement (PSA) signed between the government and ExxonMobil's local subsidiary and partners is final and will not be subject to any changes, Minister of State Joseph Harmon said yesterday.

General Manager Holly Greaves yesterday said the National Insurance Scheme (NIS) is re-examining its investment in the Berbice Bridge after dismal returns over the past few years.
A gunman yesterday afternoon shot and robbed a senior CARICOM Secreta-riat employee after he left the Republic Bank (Guyana) Limited branch at Triumph, East Coast Demerara (ECD), in what is the most recent attack on the bank's customers.