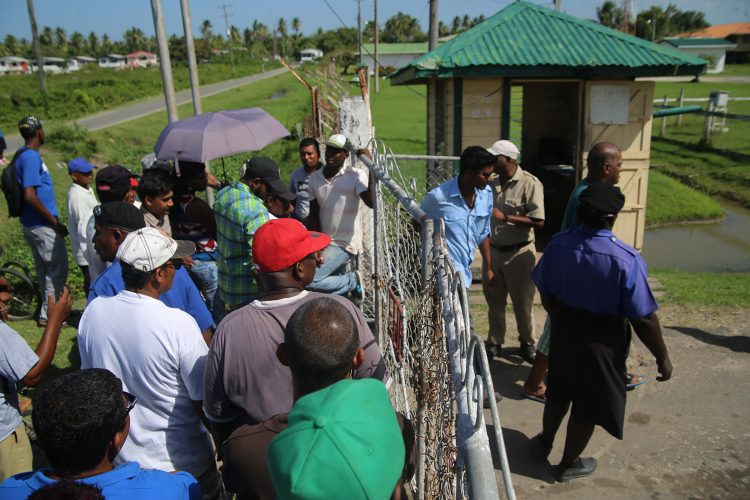 Hundreds of ex-sugar workers yesterday began receiving severance payments at the Enmore Estate but while many were happy to finally receive their "hard earned money," some were still grappling with their anxieties from not having jobs.
The former workers, armed with umbrellas and other makeshift forms of shelter from the sun, lined up in front of the gate of the estate yesterday afternoon and patiently waited to be called to the payment office to receive their payment.
The distribution of cheques started at 2 pm and many of the former workers dubbed the process unorganised. "From what it looking like, is like they taking a whole 10 minutes just to give one person dey money. Watch how many of we out here. At least they coulda call we and tell we who to come but everybody show up and they got we waiting in lines. Obviously they not going to go all night and some of we got to go home," one of the ex-workers said…..
To continue reading this article
Comments

For the limited reopening of the Skeldon and Enmore sugar estates next month, government is in the process of borrowing some $10B to 15B from local commercial banks here, Minister of Finance Winston Jordan says.

A 38-year-old electrical contractor narrowly escaped death yesterday after he was shot and robbed of $600,000 by two motorcycle bandits who trailed him from a bank before cornering him at his Enmore, East Coast Demerara (ECD) worksite.
Guyana has registered its highest score on the Transparency International (TI) Corruption Index Report but even with a mark of 38 and ranking at 91 out of 180 countries it is still viewed as a very corrupt country.
Guyana's appeal over the constitutionality of presidential term limits will now be heard on March 12 by the Caribbean Court of Justice (CCJ), according to the Trinidad-based court's schedule of sittings.

Despite GWI's Managing Director, Richard Van West-Charles arguing strongly for tariff increases, the Public Utilities Commission (PUC) yesterday insisted that the accounts of the utility be presented for examination.