Communities Minister Ronald Bulkan has labelled the claims of interference levelled against him by Georgetown Mayor Patricia Chase-Green as "unfair and unjustified," while saying that a recent letter he wrote to the Chief Citizen was only intended to offer "guidance" on matters that were brought to his attention.
"It is unfair for the mayor to be making these accusations. I have responsibilities and obligations and it is [those] I sought to discharge. In the letter to the mayor, I was just giving her guidance and cautioning her that any activity that takes place in a community ought to start with engagement with the constituency councillor," Bulkan told Stabroek News on Monday night.
Asked about Bulkan's recent letter conveying the government's concerns over the city's apparent move to use open spaces in residential areas for commercial purposes, Chase-Green on Sunday accused him of meddling in City Hall's business and urged that he try to engage with her and the council more frequently before pronouncing on M&CC matters.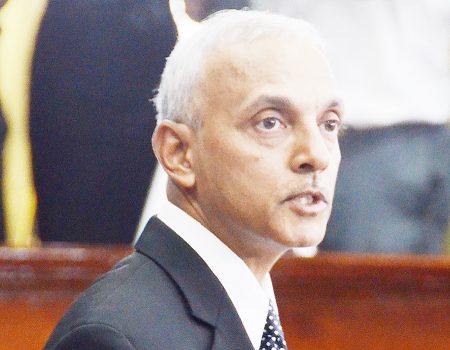 "The minister cannot sit in Kingston and try to direct what happens," a visibly upset Chase-Green said. "He is taking over from where the old administration left off. Every-thing the minister hears he gets involved in. He has never written to me on any of these matters. He has never spoken to me on these matters. In this matter he would have sent a letter," she added.
Making reference to Bulkan's letter, the mayor said that the minister was misinformed and ignorant of the laws which designate duties to the M&CC.
In his letter, Bulkan had voiced government's objection to the council's attempts to convert "green spaces" in residential areas for commercial ventures and asked Chase-Green to halt such moves.
"I inform you further, that the undertaking by the Council to convert green spaces in residential areas into housing or other commercial ventures does not find favour with central government… Instead, it is the desire and expectation of the administration that local democratic organs undertake to maintain and improve such areas for the benefit of all residents and citizens within the confines of their intended purpose," Bulkan wrote.
"I further apprise you that I am in favour of the exercise of a moratorium on the conversion or use of green spaces for any purpose apart from that for which such spaces are intended, and based on discussions at Cabinet, my colleagues share that view. I advise you of this fact for your consideration of implementation of such, within the municipality," he added.
Bulkan, who said he wanted to work in harmony with the mayor, told Stabroek News that he only wrote her after he received correspondence from residents of Bel Air Park and Subryanville, who sought his intervention on the conversion of open spaces by the council for commercial ventures.
Bulkan explained that he first noticed an article about the court battle between the residents of Bel Air Park and the Mayor and City Council (M&CC) over the proposed use of an open space on January 14 but decided to write after receiving an email from a Cabinet colleague, who stated that the Bel Air Park bickering between the residents and City Council was "another major issue waiting to happen."
"I spoke with the Town Clerk [Royston King] and alerted him on this January 14th newspaper article and the correspondence I received from the attorney Devindra Kissoon and from a resident of Subryanville, Damian Fernandes, on the Farnum ground. On the basis of that, I acted and alerted the Town Clerk that I… needed the information pertaining to Bel Air Park and Farnum Ground [since] the accusations that have been made [are] troubling, but I could not have given them any credence unless I heard directly from the council," the minister said.
He added that during his telephone conversation with King, he informed him that he was going write the mayor on the concerns of the residents.
The minister further stated that he was concerned over the use of the lands since the name of housing developer Terrence Taljit was being mentioned.
"What has happened is there are three issues, Bel Air Park, Farnum ground and the Lamaha Gardens playfield, which is also caught up in it. It has a common character involv-ed, which is one Terrence Taljit, who is believed to have bought the ground in Lamaha playfield. The same person is suspected to have entered into some kind of agreement with the council," Bulkan noted.
In 2014, Lamaha Gardens residents initiated court action to reclaim the Lamaha Gardens playground, which they said was sold illegally to Taljit.
Responding to the accusation of taking over from where the old administration left off, Bulkan said the mayor's comments were "very unkind" as he has never committed such act.
Respect
"I would distance myself from that. I have always treated all of our councils with respect that is due to them… Since I have been appointed to this position, I have treated local democratic organs differently," the minister declared.
The minister further expressed shock at the claim by the mayor that he is not knowledgeable of the law. He pointed out that a council does not only operate exclusively under the Municipal and District Councils Act but also the Local Democratic Organs Act.
He further stated that as minister he has the right to register his displeasure with any local democratic organ.
He further stated that he is awaiting responses from the mayor to his letter as Cabinet is waiting to be apprised of the matter. In addition, he said he has urged the council to treat "green spaces" with reverence and sanctity.
Meanwhile, Councillor Alfred Mentore, who represents the Bel Air Park constituency, told Stabroek News that he was very uncomfortable with the statements the mayor directed to the minister.
"The mayor is punching outside of her weight division… she should not be questioning the minister's knowledge," Mentore said expressing his views.
Justice Gino Persaud had granted an injunction restraining the Town Clerk and the City Council from using, leasing, transferring, assigning, conveying, licensing, selling, encumbering, dealing or permitting the use of the property for the purpose of building residential homes or otherwise, other than for community purposes, or doing any act which would breach the Servitude contained in transport No. 1580. The council has filed a court action seeking to set aside the judge's order.
Comments

Three employees of the New Building Society were today released on self-bail after being arraigned before a Georgetown court on eight counts of unlawful confinement alleged to have occurred at its main branch.

HARARE, Zimbabwe, CMC – West Indies sneaked into next year's World Cup in England but barely, after needing the fortune of Duckworth-Lewis to beat Scotland by five runs in their final Super Six match of the ICC World Cup qualifiers here today.

GENEVA,  (Reuters) – Armed groups execute and torture civilians in Libya in almost complete impunity seven years after the revolution that toppled Muammar Gaddafi, the United Nations human rights office said on Wednesday.

A group of international researchers and petroleum policy advisors will today meet Cabinet ministers to discuss the emerging oil and gas sector and give insight into prudent preparations for the revenues that will be generated from the industry.

A 41-year old mother from Central Amelia's Ward, Linden, died on Monday evening, having reportedly suffered severe haemorrhaging after delivering a 10-pound baby at the Linden Hospital Complex.