Pastor Andrew Hannibale, the Founder of the Faith Deliverance Ministries, was sentenced to 40 years in jail yesterday for the rape of a minor.
Before Justice Sandil Kissoon and a courtroom audience that included the relatives of the victim, some members of his congregation and curious onlookers at the Berbice Assizes, Hannibale stood in the dock and asked for forgiveness and lenience.
"I am sorry," he said.
"I never knew this day would come, when I would have found myself in such a situation and have to experience such a decision. As a community leader and a pastor for over 29 years, never did I thought this day would come," he added, while taking deep breaths to compose himself as tears flowed freely.
"I am very sorry. It is painful, I know the community has lost its confidence… because of its high expectation of me. I will abide by the jury's decision. All I ask for is leniency so I can serve the time and resume to society as a brand new man," Hannibale further said.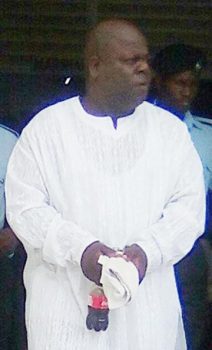 He also addressed the victim and her family. "To the victim and her family, I am sorry. I know you are hurt. I pray you forgive me as you go on with your life," he said.
Hannibale had pleaded not guilty to the charge that between January 29th and January 31st, 2016, in the County of Berbice, he engaged in sexual penetration of a child aged 15 years old.
State Prosecutor Tuanna Hardy reminded the judge that when considering sentencing that the now convicted pastor had breached his position of trust by engaging in repeated acts with the minor.
In handing down his sentence, Justice Kissoon said that while taking into considering Hannibale's plea of remorse, the court was confounded by the harsh reality of the matter.
"The very reason raised by defence counsel [Arun Gosssai] are the very reasons that caused the victim to be violated. He was placed in a position of trust. This cannot be treated lightly," the judge said.
"You are a pastor. You have a large congregation. Persons sought refuge to be nurtured, to be cared for and you violated a child with no immediate relatives. She has been grossly violated in every conceivable way. She had to face the criticism and the publicity whist taking the witness stand," the judge told the Hannibale.
"The sentence of this court is 40 years. You are not to be considered for parole or released until you have served a term of 30 years," he added.
Meanwhile, following the sentence, two females, who were amongst others in the courtroom, screamed in shock at the heavy sentence and they were ushered out of the court room.
In the hallway, the wails continued. "Oh my God! It can't be!" the women could be heard saying as they fell to the floor. They had to be assisted by police ranks.
Hannibale, of Bennet Dam, Rosignol, had established eight branches of his religious organisation.
Comments
An electrical contractor of Enmore/Hope, East Coast Demerara, who was robbed and shot about 1 pm today at Foulis, ECD, is presently admitted in a stable condition at a private medical institution in Georgetown, the police said today.

The recent poisoning of 18 bearing coconut trees by persons at Hope Estate was today condemned  by Minister of Agriculture, Noel Holder.
The Guyana Police Force is informing members of the public that in order to facilitate activities relating to the Mashramani float parade 2018 the following intersections will be closed to vehicular traffic from 6:00h until the end of the days' activities;Camp Street & Thomas land Albert Street & Wooldord Avenue Sandy Bobb & Vlissegen Road Sandy Bobb & J.B Singh Barr Street & Vlissengen Road Dowding & Vlissengen Road Station Street & Vlissengen Road Lamaha street & Vlissengen Road Woolford Avenue & Vlissengen Road Woolford & J.B Singh Anira & Irving Streets Laluni & Irving StreetsThe Following roads will also be closed to facilitate the float parade; u  Crown & Irving streets u  Almond & Irving Streets u  Forshaw & Irving Streets u  Church Street & Vlissengen Road u  North & Vlissengen Roads u  Regent Street & Vlissengen Road u  South & Vlissengen Road u  Brickdam & Vlissengen Road u  Homestretch Avenue & Vlissengen Road u  Hadfield & Vlissengen Road u  Mandela Avenue & Vlissengen Road  

(Trinidad Guardian) Joint police and Defence Force patrol camps are remaining in East Port-of-Spain permanently and will be supplemented as necessary, Minister in the Office of the Prime Minister Stuart Young says.

Auditor General Deodat Sharma says that he is awaiting some information from Homestretch Development Inc (HDI) before he completes his investigation of the controversial billion-dollar D'Urban Park Development Project.