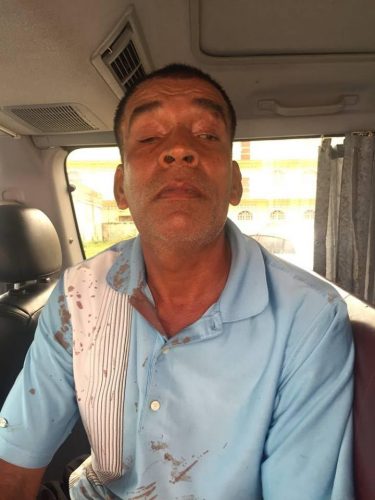 The past few weeks of Eddy Brandon's life have been marred by two tragic events—the first created by the death of his wife, the other, the loss of his life savings; scooped up by armed bandits in a matter of seconds.
The Cove and John man is just the latest victim in a chain of recent robberies, where customers appear to have been trailed from city banks after withdrawing large amounts of cash.
Brandon, 50, has worked as a fish vendor for the past 15 years, trading at Nabaclis, Golden Grove, and within his village. He is father to two children, ages 14 and 17, and until recently, was husband to their mother, and sole-bread winner of the family…..
To continue reading this article
Comments
President David Granger will not be attending the Twenty-Ninth Inter-sessional Meeting of The Conference of Heads of Government of the Caribbean Community (CARICOM) in Haiti beginning on Monday.

Mashramani celebrations ground to halt for several families yesterday afternoon, when approximately 30 persons lost their homes after a fire of unknown origin ripped through three Victoria Road, Plaisance properties, including an apartment building.

Minister of State Joseph Harmon says that the US$3 million settlement offer made by Hong Kong Golden Telecom Limited (HKGT) on the outstanding balance for its purchase of government shares in the Guyana Telephone and Telegraph Company (GTT) is being actively considered, but the government's goal is to recover the entire US$5 million that is owed.

Opposition Leader Bharrat Jagdeo on Thursday criticised government and Minister of Finance Winston Jordan on the heels of the announced plan to borrow cash from local banks to reopen two sugar estates and to fund critical current and capital Guyana Sugar Corporation (GuySuCo) programmes.
The private sector is upbeat about the nearly three dozen-odd opportunities recently advertised in the oil and gas sector as it goes some way towards meeting local content needs, according to Private Sector Commission (PSC) Chairman Eddie Boyer.