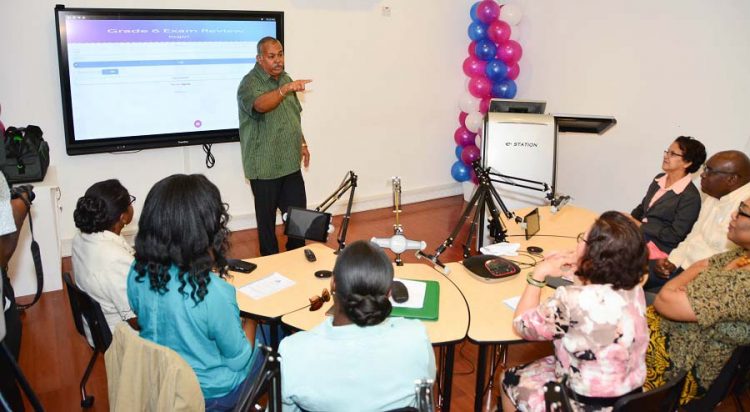 Pupils preparing to write the National Grade Six Assessment (NGSA) have been provided with another tool to assist in their preparation with the launch of the NGSA App by the Ministry of Education in collaboration with STEM Guyana.
The App which was launched at the National Centre for Educational Resource Development (NCERD), on Monday provides students with past papers of the four core subjects, Mathematics, English, Social Studies and Science, which they are tested in at the NGSA. It also provides an interface, whereby students' activities can be monitored by their parents and teachers. The App is available for download from the Google Play Store.
According to a statement from the Ministry of the Presidency, First Lady Sandra Granger commended those responsible for having used technology to "create a new and innovative way to further strengthen and enhance the learning."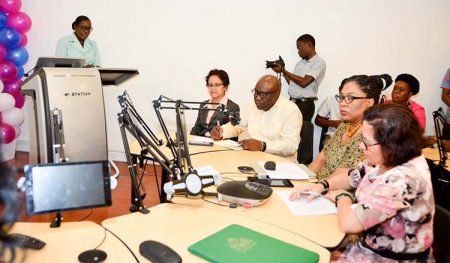 The Ministry has through STEM she argued "open[ed] doors for children to access education and urged parents and guardians to take full advantage of what the Ministry has to offer."
"Our children in Guyana have proven that they have the capacity to learn something new, and it doesn't matter what school you go to or which part of the country you live in… The Ministry is opening up these apps to you which will help you in your Grade Six exams and hopefully, inspire you to get into robotics and mathematics…," Mrs Granger said adding that "the app is a great tool that can bring children together, as it allows for the sharing of educational information."
She stressed that the app has now provided students in the hinterland with the equal opportunity to learn, grow and to develop in STEM, like children on the coast and elsewhere.
"I am excited because I think [this] app is going to [give] that little boost that children need to be inspired and any child can do it, once they have a phone and once they have teachers who are interested," the First Lady said.
Minister of Education, Nicolette Henry also called for students to take advantage of the App. According to Henry the app was designed with every Grade Six student in mind.
"Our nation's future lies in the ability of our students to master academics as well as vocational skills. The ability to master these skills begins with the compulsory primary education. The Ministry of Education is adamant about its objective to improve students' performance in international and external examinations," she  said adding that the Ministry will execute the vision of President David Granger and her personal dream to ensure that every NGSA candidate is fully prepared for and is successful at their  examinations.
Also speaking at the launch was Co-Founder of STEM Guyana, Karen Abrams who noted that in order for children to thrive in learning, education must be reimagined.
"We therefore thought that it was important to work with the Ministry of Education to make available, a technology tool which will allow access to test questions, it will allow for explanation to those questions and it will allow answers. A tool that will also allow parents to monitor how long their children study and what they study," she explained before thanking the Ministry for sponsoring STEM Guyana's efforts to strengthen the foundation upon which they seek to prepare young people for a future that will be heavily influenced by technology.
"There is perhaps no greater responsibility than the education of the nation's young people and today, I salute the Ministry of Education for its commitment in empowering our young people through its various technology initiatives and through its support for initiatives like ours," Abrams said while expressing gratitude to President Granger specifically for donating 90 tablets to STEM Guyana to further its research projects in other schools improving education and the lives of students.
The statement added that a year ago President Granger, through the National Endowment for Science and Technology (NEST) Programme, announced Government's support for the roll out of phase two of the NGSA app during the launching of STEM Guyana's Mathematics App for NGSA students.
Also present at the launching were Chief Education Officer, Marcel Hutson, Director of NCERD, Jennifer Cumberbatch, members of STEM Guyana, members of the Ministry of Education and students including  Uwimana Whaul, a Six Grader of Anais Private School.
Whaul said that she will be using the app to improve her performance in her weak subject areas.
"I think this app will help me in my weak areas, especially in Mathematics, it can also help others improve at Common Entrance and I hope it gives more knowledge that would benefit us," she said.
Comments

Mashramani celebrations ground to halt for several families yesterday afternoon, when approximately 30 persons lost their homes after a fire of unknown origin ripped through three Victoria Road, Plaisance properties, including an apartment building.

Minister of State Joseph Harmon says that the US$3 million settlement offer made by Hong Kong Golden Telecom Limited (HKGT) on the outstanding balance for its purchase of government shares in the Guyana Telephone and Telegraph Company (GTT) is being actively considered, but the government's goal is to recover the entire US$5 million that is owed.

Opposition Leader Bharrat Jagdeo on Thursday criticised government and Minister of Finance Winston Jordan on the heels of the announced plan to borrow cash from local banks to reopen two sugar estates and to fund critical current and capital Guyana Sugar Corporation (GuySuCo) programmes.
The private sector is upbeat about the nearly three dozen-odd opportunities recently advertised in the oil and gas sector as it goes some way towards meeting local content needs, according to Private Sector Commission (PSC) Chairman Eddie Boyer.

'Black Panther,' the new Marvel Studios cinematic juggernaut opened in Guyanese theatres to overwhelming support on Thursday evening, which saw a large number of patrons turning out in African cultural display to mark the occasion.