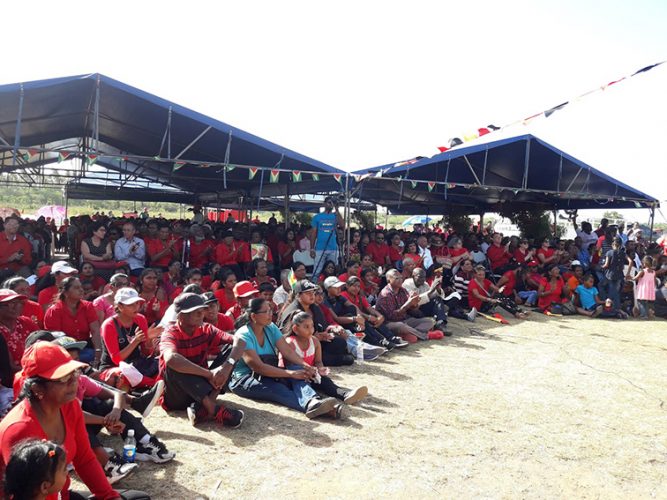 Opposition Leader Bharrat Jagdeo yesterday went into full campaign mode as he laid out plans for the his People's Progressive Party (PPP) which he urged supporters to follow as he believes it was key to ensuring a victory at the 2020 General and Regional Elections.
Using the centennial birth anniversary of late PPP founder and President, Dr.Cheddi Jagan, which was held at Babu John, Corentyne, Berbice yesterday. Jagdeo, whose party lost the 2015 general elections by under 5,000 votes, told attendees that he forecasts a PPP win by 50,000 votes come 2020 but that it would not be realized without hard work and the following through of his plan.
"I want the media and our supporters to know that we will not be lying down. We will be looking for every loophole," he told the over 1,500 attendees at the event…..
To continue reading this article
Comments

Under the agreement the APNU+AFC government signed with Tullow Guyana B.V. and Eco (Atlantic) Oil and Gas Incorporated, Guyana will receive a 1% royalty and a greater share of profits with increased production.
When the late president Janet Jagan's government awarded 600 offshore blocks to Esso Exploration and Production Guyana Limited (EEPGL) in 1999, a key factor was the then government's interest in attracting big name American investors who would help fend off Venezuela's decades-old claim to the Essequibo region, sources say.

Saying that Demerara Distillers Limited (DDL) is willing to negotiate the purchase of the Enmore Estate, Minister of Public Security Khemraj Ramjattan yesterday told a meeting at Adelphi Village, East Canje Berbice that government will ensure that each estate that is being divested is sold for the best price.

Former Georgetown Mayor and popular florist Compton Young died in hospital last Thursday and he is being remembered for his generosity and his dedicated efforts to ensuring that the city was kept clean.

Over a dozen of the residents displaced by the Mashramani Day fire at Victoria Road, Plaisance, East Coast of Demerara, are seeking the government's assistance to return to their normal lives.