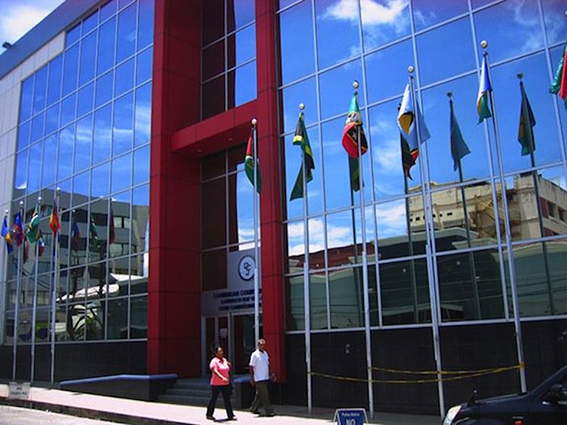 In a more than six-hour long hearing before the Caribbean Court of Justice (CCJ), attorneys for the state yesterday argued that amendments to effect the presidential term limit were done in accordance with the Constitution, even as those representing the challenger maintained that a referendum was required and that the two-term restriction is unlawful.
The attorneys on both sides yesterday fiercely defended their respective positions before the Trinidad-based final court, which is expected to pronounce definitively on the challenge mounted to term limits by private citizen Cedric Richardson, thereby ending speculation about another run for office by former two-term president Bharrat Jagdeo.
The state has appealed decisions by both the Supreme Court and the Guyana Court of Appeal in favour of Richardson, who in the run-up to the 2015 general elections had challenged restrictions created by amendments to Article 90 of the Constitution that were enacted in 2001 after the bipartisan Constitution reform process…..
To continue reading this article
Comments

Under the agreement the APNU+AFC government signed with Tullow Guyana B.V. and Eco (Atlantic) Oil and Gas Incorporated, Guyana will receive a 1% royalty and a greater share of profits with increased production.
When the late president Janet Jagan's government awarded 600 offshore blocks to Esso Exploration and Production Guyana Limited (EEPGL) in 1999, a key factor was the then government's interest in attracting big name American investors who would help fend off Venezuela's decades-old claim to the Essequibo region, sources say.

Saying that Demerara Distillers Limited (DDL) is willing to negotiate the purchase of the Enmore Estate, Minister of Public Security Khemraj Ramjattan yesterday told a meeting at Adelphi Village, East Canje Berbice that government will ensure that each estate that is being divested is sold for the best price.

Former Georgetown Mayor and popular florist Compton Young died in hospital last Thursday and he is being remembered for his generosity and his dedicated efforts to ensuring that the city was kept clean.

Over a dozen of the residents displaced by the Mashramani Day fire at Victoria Road, Plaisance, East Coast of Demerara, are seeking the government's assistance to return to their normal lives.