Even as ExxonMobil announced that it doesn't expect to pay any corporate taxes to the Australian government until 2021 after an already five-year tax hiatus, the company has  been accused of generating billions in revenue in that country  but using subsidiaries in a scheme designed to avoid paying its dues.
According to the UK Guardian newspaper, ExxonMobil told a Senate inquiry last Wednesday it did not expect to pay any Australian corporate tax until 2021, meaning it would not have paid the tax for eight years, and was again accused of misleading the inquiry over its links to tax havens.
The Guardian said that the oil and gas giant's Australian tax affairs have faced close scrutiny since the release of an investigation by the Tax Justice Network (TJN) last year that exposed a complex web of hundreds of foreign subsidiaries designed for tax avoidance.
On global non-profit tax oversight body, Global Alliance for Tax Justice's website, the organization reveals that leaked documents have revealed the Exxon has at least 575 companies incorporated in The Bahamas with names beginning with ExxonMobil, Esso, Exxon and Mobil. ExxonMobil Corporation's US filings reveal that the multinational has US$54 billion stashed offshore and that the Australian Tax Office (ATO) has not approved Exxon's tax filings for nearly a decade.
While Exxon has not recorded a taxable income or paid corporate tax in Australia for three years in a row, it reported revenue of $9.6bn in 2013-14, $8.5bn in 2014-15 and $6.7bn in 2015-16.
Allegations against the company are that it had received two related-party loans, one from its US parent company, and another from The Bahamas entity worth $1bn. The company said it used about 2% of the loan to partially deduct from its taxable income.
The inquiry heard the Australian Tax Office had audited ExxonMobil.
"How much tax revenue has Australia lost to the Netherlands, The Bahamas or other offshore tax and corruption havens? How much will we lose in the future unless Exxon is forced to fully disclose its corporate structure and global payments to governments?" TJN  questions.
The organization alleges that ExxonMobil, like Chevron, appears to have used extensive high-interest related party loans and other tricks to artificially reduce tax payments in Australia.
However, TJN claims Exxon has been even more secretive than Chevron.
"ExxonMobil Australia Pty Ltd, the primary Australian subsidiary, has failed to disclose key elements of its corporate structure in Australia in its annual report filed with the Australian Securities & Investments Commission (ASIC) and when directly asked by the Senate Inquiry into Corporate Tax Avoidance," the TJN  reports states.
"Exxon's primary Australian company is directly owned by a shell company in the Netherlands and the Dutch company is owned by another subsidiary in The Bahamas. In effect, Exxon's entire Australian operations are owned through The Bahamas. This appears to be a Caribbean variation of the aggressive tax-minimization," it adds.
It was the TJN investigation that prompted a fresh hearing of the Australian Senate's corporate tax inquiry and the Guardian said that unions slammed the company as being a "very, very bad corporate citizen".
But in the face of TJN's  accusations that it used  related-party loans between its internal subsidiaries to reduce taxable profits in Australia,  Exxon fired back strongly calling the claims an "baseless".
The Guardian says that Tax Justice Network's Jason Ward, led the investigation and he said that Exxon must be punished for the deception.
He said their actions and statements show "complete disrespect" for the committee and the Australian people, and mirrored ExxonMobil's global track record of "arrogance and disrespect".
"Exxon did mislead this committee in 2015, and there should be consequences," Ward told the inquiry on Wednesday. "Why is Exxon continuing to hide the facts?"
After the TJN's report, ExxonMobil used a submission to the inquiry to accuse Ward of defamation. ExxonMobil has sued outspoken individuals who have criticized it in the United States, the inquiry has heard, according to the Guardian.
The company's actions saw Australian Labour senator Doug Cameron assert that it was the first time in 10 years he had seen such a threat, and said he would be "very concerned" if the multinational was trying to intimidate a witness.
The Guardian said that ExxonMobil said it had paid $440m a year for the past 14 years through the Petroleum Resource Rent Tax (PRRT).
"But even the PRRT, a royalty scheme, was not achieving fair or adequate returns from companies extracting Australia's natural resources, the inquiry heard. Both BHP and ExxonMobil operate a joint venture in the Bass Strait, but ExxonMobil had paid far less in PRRT. The inquiry heard a lack of transparency with the royalty scheme made it difficult to understand why there was such a divergence," the Guardian said.
ExxonMobil's chairman in Australia, Richard Owen, flatly denied any attempt to mislead the inquiry.
"The accusation by the Tax Justice Network was that we misled this community," Owen said. "And I clearly say that we have not misled this community. That we have answered truthfully all the questions that have been put to us. "And therefore we find the accusation very disappointing."
ExxonMobil released new data on its financial affairs and structure to counter what it described as "misinformation" and "innuendo".
Owen said ExxonMobil had "decades and decades" of paying tax in Australia, including more than $2bn since 2000, averaging $200m a year.
"In the 1970s and the 1980s, the company was providing 14% of all government tax receipts, the inquiry heard. ExxonMobil said it was now in a unique position due primarily to the cost of $21bn in capital investment in Australia over the past decade, including in its operations in the Bass Strait and Western Australia. Lower prices were driving down income, the company said, and there was a high cost associated with the debt it had taken on to fund its investment," the newspaper reported.
"We are in a unique period, and expect it to be short-term in our corporate history, with no income tax paid since 2013," the Guardian quotes Owen as saying. "And that's due to the recovery of invested capital, lower prices that are driving down income, and the cost of debt to fund the significant amount of investment … that we've made," he added.
Comments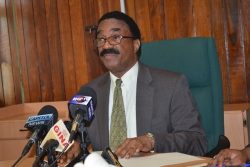 Attorney General Basil Williams SC today condemned private criminal charges brought by PPP/C MPs against two government ministers as "malicious".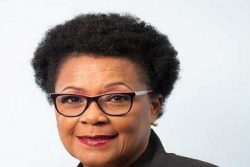 (Barbados Nation) Caribbean governments are being encouraged to revisit the level of taxation on airline tickets.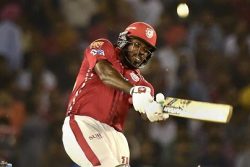 KOLKATA, India, CMC – Talismanic West Indies opener Chris Gayle uncorked another gem of a half-century as Kings XI Punjab beat Kolkata Knight Riders by nine wickets under Duckworth/Lewis, to storm to the top of the Indian Premier League standings here today.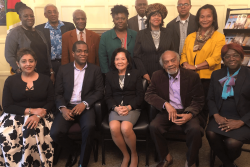 First Lady, Sandra Granger on Tuesday received a donation of £2000 from the Guyana United Kingdom (UK) Social Development Association (GUSDA) in support of her activities aimed at empowering women and girls in Guyana.