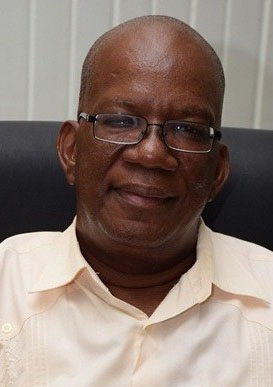 Speaking at a recent mining conference in Canada, Minister of Finance Winston Jordan projected that by the late 2020s, Guyana could be producing one million barrels of oil per day.
According to a press release from the Guyana Office for Investment (GO-Invest), Jordan told the Prospectors and Developers Association of Canada Convention (PDAC) held from 4-7 March in Toronto that while first oil in the first quarter of 2020 is expected to be 120,000 barrels per day this figure could reach 500,000 barrels by 2025 and up to one million by the late 2020s. He pegged the recoverable oil reserves at 3.7 billion barrels.
The last figure given by ExxonMobil for recoverable oil offshore was 3.2b. Since that figure, it made a seventh major find at the Pacora-1 well. That find added to previous discoveries at Liza, Payara, Snoek, Liza Deep, Turbot and Ranger-1.
The Minister's one million figure would suggest great expectations for further discoveries of oil.
He stated that the revenues that Guyana will earn from its oil discovery will have a transformative effect on the country and added that the government is keen to avoid the `oil curse' and is therefore fashioning a "constructive and enlightened Sovereign Wealth Fund to provide for inter-generational equity". He said that the legislation is expected to get to parliament in the last quarter of this year.
The Minister lauded Guyana's mining sector as a significant pillar of the country's economy and the main contributor to the Gross Domestic Product (GDP) for the past three years, as well as a major source of Foreign Direct Investment.
According to the GO-Invest press release, the minister outlined the Government's vision and projections for the extractive sector while calling attention to the United Nations Sustainable Development Goals, the statement said. These goals acknowledge the need for environmentally sustainable economic development and stressed that the mining industry has a pivotal role to play in the attainment of these goals, by ensuring that its operations leave a positive footprint on the environment, even as it generates profits, creates employment and promotes economic growth.
According to the release, Jordan informed the more than 25,000 convention attendees which included investors, analysts, mining executives, prospectors, geologists, indigenous peoples, government officials, and students from over 125 countries, that while mining in Guyana is successful, it is "unable to unleash its full potential" because it is challenged by the "unavailability of requisite capital to local investors." To address this challenge, he said, Government is encouraging local miners to establish linkages with foreign investors and members of the Diaspora to access the necessary financing and technology while at the same time providing fiscal incentives in the form of concessions on machinery, equipment and fuel, and waiver and remission of taxes on motor vehicles, based on the value of gold declaration.
Jordan also posited that the Guyana Office for Investment is ready and ably equipped to facilitate investors and to help them navigate any bureaucracy and assured that investors are guaranteed the safety of their investment and the ease of doing business, the press release said. He said that Government is cognizant that a strong legal and regulatory framework is a prerequisite for the orderly and safe development of the sector and that it has undertaken revisions to the Mining Act and Regulations which are expected to be completed and laid in the National Assembly by the end of 2018.
According to the release, Member of Parliament in the Canadian House of Commons, who is also the Parliamentary Secretary to the Minister of International Trade, Pamela Goldsmith-Jones, pointed to Canada's capabilities in off-shore oil and gas, and acknowledged that Guyana is a key market for Canada.
"In 2016, Guyana became Canada's largest merchandised trading market within CARICOM because of a significant increase in gold imports to Canada…our government is committed to further strengthening our relationship with our friends and partners in Guyana," Goldsmith Jones was quoted as saying in the press release.
Jordan and the GO-Invest team met with the Premier and Deputy Minister of Natural Resources for Newfoundland and Labrador to discuss opportunities in mining, Oil and Gas and the Natural Resources sector in General.
Comments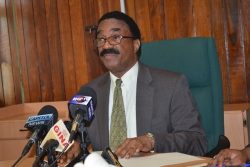 Attorney General Basil Williams SC today condemned private criminal charges brought by PPP/C MPs against two government ministers as "malicious".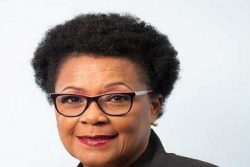 (Barbados Nation) Caribbean governments are being encouraged to revisit the level of taxation on airline tickets.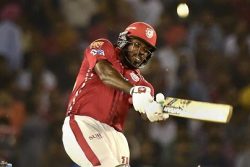 KOLKATA, India, CMC – Talismanic West Indies opener Chris Gayle uncorked another gem of a half-century as Kings XI Punjab beat Kolkata Knight Riders by nine wickets under Duckworth/Lewis, to storm to the top of the Indian Premier League standings here today.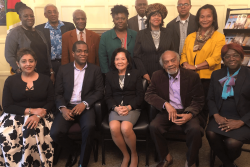 First Lady, Sandra Granger on Tuesday received a donation of £2000 from the Guyana United Kingdom (UK) Social Development Association (GUSDA) in support of her activities aimed at empowering women and girls in Guyana.