TEGUCIGALPA, (Reuters) – An earthquake of magnitude 7.6 that struck near remote islands belonging to Honduras yesterday was felt across northern Central America, prompting a tsunami warning for parts of the Caribbean which was later lifted.
The quake rattled windows in the Honduran capital of Tegucigalpa roughly 323 miles (519 km) to the east and was felt at least as far north as the Mexican state of Quintana Roo, but no damage was immediately reported.
The Pacific Tsunami Warning Center said a tsunami advisory was in effect for Puerto Rico and the U.S. Virgin Islands after the earthquake and warned of possible waves up to 1 meter (3 feet) above tide level. The warning was later lifted
Rodrigo Anaya Rodriguez was in a hammock inside his house near popular tourist site Bacalar Lake on Mexico's Caribbean coast in Quintana Roo when he felt three tremors.
"It felt like a bulldozer was driving past," he said. "It didn't last long but was very violent."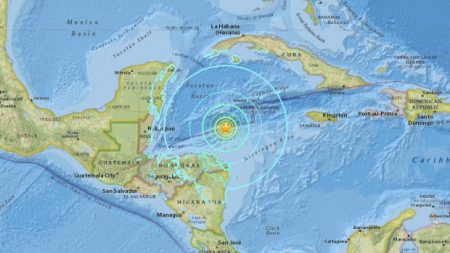 He ran to his balcony and saw electricity posts and cables swaying.
In Honduras, firefighters said some residents in southern neighborhoods fled their homes after feeling the shaking.
"We have reports that it was felt in the majority of the country, but we don't have reports of damage," said Lizandro Rosales, director of Honduras' contingencies commission.
The U.S. Geological Survey said the quake, initially reported as a magnitude 7.8, was centered 125 miles (202 km)northeast of Barra Patuca in Honduras and 191 miles (307 km)southwest of George Town in the Cayman Islands.
The quake was very shallow, at only 6.2 miles (10 km), which would have amplified its effect.
It was lightly felt in Belize's capital, Belize City, but did not prompt immediate reports of damage.
Belize's minister in charge of emergency management, Edmond Castro, spoke on local radio to urge people living in low lying coastal areas and islands to stay alert for potentially dangerous waves.
Comments

PERRIS, Calif., (Reuters) – Police said yesterday they were still seeking answers after finding 13 siblings starving in their parents' squalid Southern California home, some of them chained to beds under "horrific" conditions in an otherwise ordinary suburb.

WASHINGTON,  (Reuters) – President Donald Trump's former chief strategist Steve Bannon declined on Tuesday to comply with a subpoena ordering him to answer questions from a House intelligence panel about his time at the White House as part of its investigation into allegations of Russian interference in the U.S.
SAN SALVADOR, (Reuters) – El Salvador is discussing a deal with Qatar under which Salvadoran migrants facing the loss of their right to stay in the United States could live and work temporarily in the Middle Eastern country, the government of the Central American nation said on Tuesday.
VANCOUVER, (Reuters) – A 20-nation meeting on North Korea agreed yesterday to consider imposing unilateral sanctions on Pyongyang that go beyond those required by U.N.

LONDON,  (Reuters) – Carillion collapsed yesterday when its banks pulled the plug, triggering Britain's biggest corporate failure in a decade and forcing the government to step in to guarantee public services from school meals to roadworks.