TEGUCIGALPA, (Reuters) – An earthquake of magnitude 7.6 that struck near remote islands belonging to Honduras yesterday was felt across northern Central America, prompting a tsunami warning for parts of the Caribbean which was later lifted.
The quake rattled windows in the Honduran capital of Tegucigalpa roughly 323 miles (519 km) to the east and was felt at least as far north as the Mexican state of Quintana Roo, but no damage was immediately reported.
The Pacific Tsunami Warning Center said a tsunami advisory was in effect for Puerto Rico and the U.S. Virgin Islands after the earthquake and warned of possible waves up to 1 meter (3 feet) above tide level. The warning was later lifted
Rodrigo Anaya Rodriguez was in a hammock inside his house near popular tourist site Bacalar Lake on Mexico's Caribbean coast in Quintana Roo when he felt three tremors.
"It felt like a bulldozer was driving past," he said. "It didn't last long but was very violent."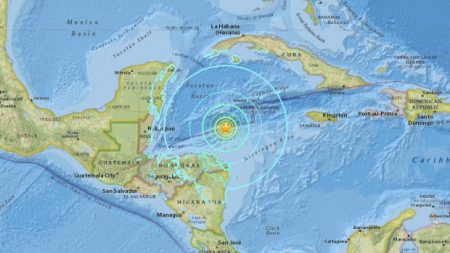 He ran to his balcony and saw electricity posts and cables swaying.
In Honduras, firefighters said some residents in southern neighborhoods fled their homes after feeling the shaking.
"We have reports that it was felt in the majority of the country, but we don't have reports of damage," said Lizandro Rosales, director of Honduras' contingencies commission.
The U.S. Geological Survey said the quake, initially reported as a magnitude 7.8, was centered 125 miles (202 km)northeast of Barra Patuca in Honduras and 191 miles (307 km)southwest of George Town in the Cayman Islands.
The quake was very shallow, at only 6.2 miles (10 km), which would have amplified its effect.
It was lightly felt in Belize's capital, Belize City, but did not prompt immediate reports of damage.
Belize's minister in charge of emergency management, Edmond Castro, spoke on local radio to urge people living in low lying coastal areas and islands to stay alert for potentially dangerous waves.
Comments

SAN FRANCISCO,  (Reuters) – A Chevron attorney said in court yesterday that the company supports scientific conclusions that humans are causing climate change, a response to a lawsuit that accuses five major energy producers of misleading the public for years about their role in global warming.
SAN FRANCISCO,  (Reuters) – Facebook Inc Chief Executive Mark Zuckerberg said yesterday that his company made mistakes in how it handled data belonging to 50 million of its users and promised tougher steps to restrict developers' access to such information.
SAO PAULO/BRASILIA,  (Reuters) – A power outage struck large swaths of Brazil yesterday, affecting tens of millions of people, especially in the country's northern and northeastern regions where the system remains "practically collapsed," according to an official.

PFLUGERVILLE, Texas,  (Reuters) – The Texas man who carried out a three-week bombing spree made a 25-minute video "confession" on his phone, which was recovered after he blew himself up yesterday as police were closing in to make an arrest, police said.
CARACAS,  (Reuters) – The Miss Venezuela beauty pageant said  yesterday it will investigate possible unethical conduct by its contestants following a vitriolic social media spat that saw former participants accusing each other of inappropriate behavior.