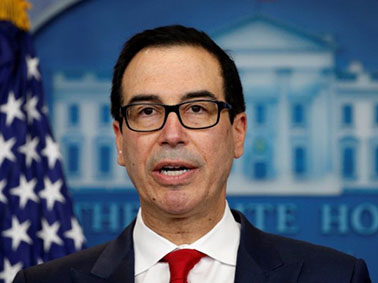 BEIJING,  (Reuters) – The United States asked China in a letter last week to cut the tariff on U.S. autos, buy more U.S.-made semiconductors and give U.S. firms greater access to the Chinese financial sector, the Wall Street Journal reported today, citing unnamed sources.
Alarm over a possible trade war between the world's two largest economies has chilled financial markets as investors foresee dire consequences should trade barriers go up due to President Donald Trump's bid to cut the U.S. deficit with China.
Treasury Secretary Steven Mnuchin and U.S. Trade Representative Robert Lighthizer listed steps that Washington wants China to take in a letter to Liu He, a newly appointed vice premier who oversees China's economy, the Journal said, quoting sources with knowledge of the matter.
The newspaper reported that Mnuchin was considering a visit to Beijing to pursue negotiations.
Fears of a trade war mounted this month after U.S. President Donald Trump first slapped hefty tariffs on steel and aluminium imports, and then on Thursday specifically targeted China by announcing plans for tariffs on up to $60 billion of Chinese goods.
The latter move followed a U.S. investigation that found China engaged in unfair trade practices by forcing American investors to turn over key technologies to Chinese firms.
Liu told Mnuchin in a telephone call on Saturday that the U.S. has flouted trade rules with its inquiry into intellectual property, and that China will defend its interests, China's official Xinhua news agency reported.
A U.S. Treasury spokesman confirmed the telephone call, but declined to comment on the content of any letter or on a possible visit by Mnuchin to Beijing.
"Secretary Mnuchin called Liu He to congratulate him on the official announcement of his new role," the spokesman said told Reuters.
"They also discussed the trade deficit between our two countries and committed to continuing the dialogue to find a mutually agreeable way to reduce it," the spokesman said.
Mnuchin told Reuters on Wednesday that Washington would keep an open dialogue with Beijing, even though Treasury is working on potential U.S. investment restrictions for Chinese firms and other entities as a part of Trump's Section 301 intellectual property remedies.
On Friday, China fired a warning shot in response to the separate U.S. tariffs on steel and aluminium by declaring plans to levy additional duties on up to $3 billion of U.S. imports.
Around the Web