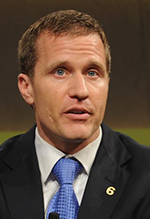 (Reuters) – Missouri's attorney general called on Governor Eric Greitens, a fellow Republican, to resign on Wednesday, saying the findings of a newly released state legislative report on a sex scandal that has embroiled Greitens are grounds for impeachment.
Attorney General Josh Hawley, a candidate for the U.S. Senate seat held by Democrat Claire McCaskill, said the report "contains shocking, substantial and corroborated evidence of wrongdoing" by the 44-year-old governor.
Greitens, who is charged with criminal invasion of privacy in connection with an admitted extramarital affair in 2015 before his election, said earlier on Wednesday that he was determined to stay in office while fighting to clear his name in court.
Around the Web