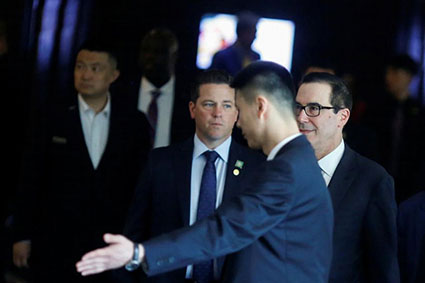 WASHINGTON/BEIJING, (Reuters) – The Trump administration has drawn a hard line in trade talks with China, demanding a $200 billion cut in the Chinese trade surplus with the United States, sharply lower tariffs and advanced technology subsidies, people familiar with the talks said yesterday.
The lengthy list of demands was presented to Beijing before the start of talks Thursday and yesterdaybetween top-level Trump administration officials and their Chinese counterparts to try to avert a damaging trade war between the world's two largest economies.
A White House statement did not mention specific demands, but said the U.S. delegation "held frank discussions with Chinese officials on rebalancing the United States–China bilateral economic relationship, improving China's protection of intellectual property, and identifying policies that unfairly enforce technology transfers."
The statement gave no indication that U.S. President Donald Trump would back off on his threat to impose tariffs on up to $150 billion in Chinese goods over allegations of intellectual property theft.
The delegation was returning to Washington to brief Trump and "seek his decision on next steps," the White House said, adding that the administration had "consensus" for "immediate attention" to change the U.S-China trade and investment relationship.
Trump said he would meet with the delegation on Saturday. "We will be meeting tomorrow to determine the results, but it is hard for China in that they have become very spoiled with U.S. trade wins!" he said in a Twitter post late on Friday.
China's state-run Xinhua news agency described the talks as "constructive, candid and efficient" but with disagreements that remain "relatively big."
Tariff threats have roiled stock markets in recent weeks, but the inconclusive outcome of the Beijing talks did little to stop a rally in U.S. shares prompted by jobs data that eased fears of faster Federal Reserve rate hikes. Stocks in Shanghai ended 0.5 percent lower while they fell 1.3 percent in Hong Kong.
Trump told reporters in Washington that he was determined to bring fairness to U.S.-China trade.
"We will be doing something one way or the other with respect to what's happening in China," Trump said. He added that he had "great respect" for China's President Xi Jinping. "That's why we're being so nice, because we have a great relationship."
China during the meetings asked that the United States ease crushing sanctions on Chinese telecom equipment maker ZTE Corp , people with knowledge of the matter said.
Washington's demand for a $200 billion cut from China's U.S. goods trade surplus doubles Trump's previous request for a $100 billion cut. China had a record U.S. goods trade surplus of $375 billion in 2017.
Trump has also demanded "reciprocity" between U.S. and Chinese tariffs, frequently complaining about China's 25 percent car tariff while the U.S. equivalent is 2.5 percent.
The U.S. team, led by U.S. Treasury Secretary Steven Mnuchin, demanded that China lower tariffs to levels no higher than those imposed by the United States, two people familiar with the demands said. The delegation also asked China to halt subsidies for advanced technology linked to its "Made in China 2025," the sources said.
Around the Web