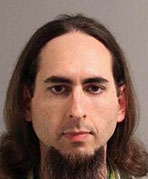 ANNAPOLIS, Md.,  (Reuters) – Hundreds of people gathered yesterday evening to remember the five people gunned down at a community newspaper office in Annapolis, Maryland, one of the deadliest attacks on journalists in U.S. history.
The vigil came hours after accused gunman Jarrod Ramos was denied bail during a brief hearing in Anne Arundel County criminal court. Ramos, 38, appeared by video link from jail and did not speak during the proceedings.
More than 300 mourners, many of them carrying candles, walked slowly through the streets of Annapolis, the state capital, near the capitol dome, which was lit up, its flags flown at half staff in honor of the shooting victims.
All five of those slain worked at the Capital Gazette newspaper. Ramos is accused of opening fire on Thursday over a longstanding grudge against the paper.
He is accused of entering the Capital Gazette office, firing through a glass door with a 12-gauge shotgun, hunting for victims and spraying the newsroom with gunfire as reporters hid under desks and begged for help on social media.
Prosecutors said Ramos barricaded a back door to prevent people from fleeing.
"The fellow was there to kill as many people as he could," Anne Arundel County Police Chief Timothy Altomare told a news conference, adding that the suspect was identified with facial-recognition technology.
Altomare said evidence found at Ramos' home, in Laurel, Maryland, showed that he planned the attack and that the pump-action 12 gauge shotgun used was legally purchased about a year ago.
The five killed were Rob Hiaasen, 59; Wendi Winters, 65; Rebecca Smith, 34; Gerald Fischman, 61; and John McNamara. All were journalists except for Smith, who was a sales assistant, police said. Hiaasen was the brother of best-selling author Carl Hiaasen.
The Capital newspaper, part of the Gazette group, published an edition on Friday with photographs of the victims and a headline "5 shot dead at The Capital" on its front page. The editorial page was left blank but for a note saying the editors were speechless.
Photographs widely shared on social media showed staffers working on laptops in a parking garage to produce Friday's edition while they waited to learn the fate of their colleagues.
Around the Web