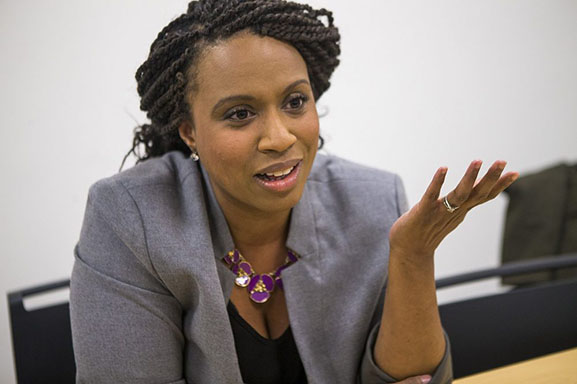 BOSTON,  (Reuters) – Boston City Councilor Ayanna Pressley was poised yesterday to become Massachusetts' first black congresswoman after scoring an upset win over a 10-term incumbent in the Democratic contest to represent the liberal city in the U.S. Congress.
"It seems like change is on the way," Pressley, 44, told supporters celebrating her win and chanting her "change can't wait" campaign slogan.
The outcome was the latest win for a progressive challenger against a veteran politician in nominating contests for November's congressional elections. With no Republicans on the ticket in Tuesday's primary, Pressley is all but certain to succeed U.S. Representative Michael Capuano, 66.
The race echoes the June primary in a safely Democratic New York City congressional district where first-time candidate Alexandria Ocasio-Cortez beat a 10-term incumbent, sparking enthusiasm for progressive candidates across the United States. Ocasio-Cortez endorsed Pressley shortly after her win.
In challenging Capuano, who had not faced a primary challenge since he was first elected in 1998, Pressley argued that she was more attuned to the needs of residents of the state's only congressional district where a majority of residents are not white.
Polls and political analysts predict the state's nine House of Representatives seats will remain in Democratic hands, along with the seat held by U.S. Senator Elizabeth Warren, a leading liberal voice often cited as a possible 2020 White House contender.
Governor Charlie Baker, a Republican who regularly shows up in opinion polls as one of the most popular U.S. governors, is also expected to be re-elected.
Democrats need to pick up 23 seats in the House of Representatives and two in the Senate nationwide in the Nov. 6 general election to gain a majority that could allow them to counter Republican President Donald Trump's agenda.
Around the Web