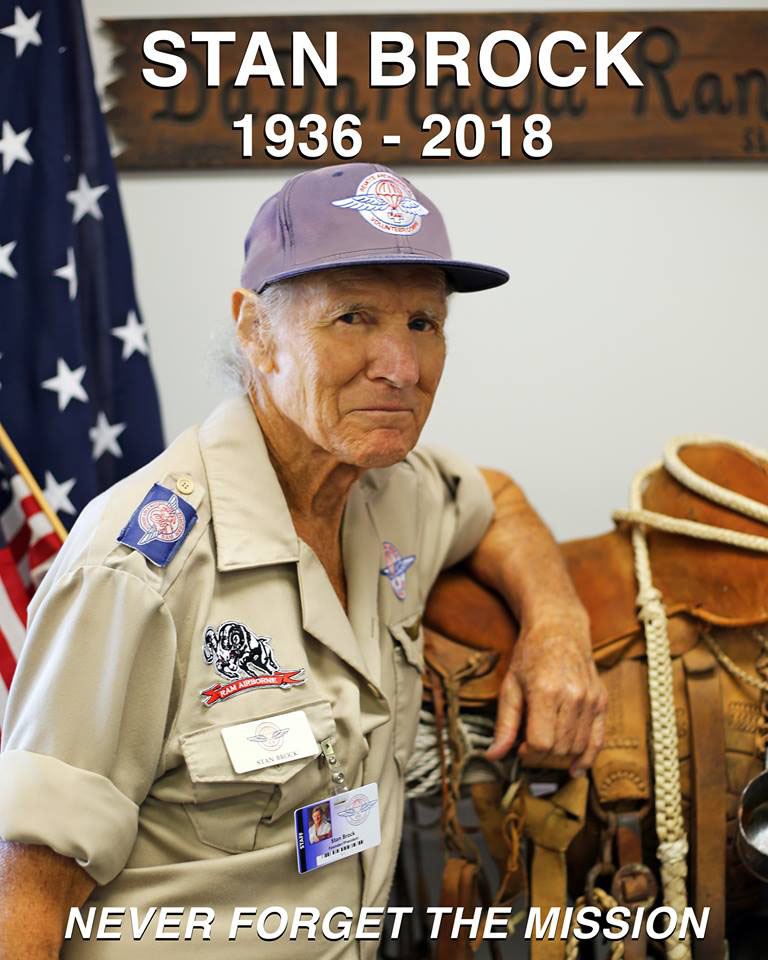 A week ago today in Knoxville, Tennessee, USA, Stan Brock passed away, and as is fast becoming the trend here in Guyana, one can expect that his name will soon be forgotten. Who was Stan Brock and why shouldn't we forget him?
Stan Brock arrived in the then British Guiana in August, 1953 as a seventeen year old just out of one of Britain's older Public Schools, to join his father, an English telephone engineer who was supervising the installation of a new telecommunication system. Whilst wandering around Georgetown, looking for an opportunity to make his way in life, young Brock stumbled upon the office of the Rupununi   Development Co. Ltd, the Head Office of the Dadanawa Ranch.
A few days later, Brock was aboard a 'War surplus Dakota' winging his way south, the fourth hire in nine months for the position of ranch manager. Brock, whose apparent employ had been solely based on his ability to read and write, was required to manage the skeleton staff of vaqueros (cowboys) and drive cattle to market when required. His terms of employment were $40 per month plus keep.
Brock found that one of the largest cattle ranches in the world at the time was loosely left to the devices of the vaqueros, members of the Wapishana tribe, who were responsible for the cattle and a Scotsman, the construction manager and engineer who took care of the fences and corrals. Over the next sixteen years, Brock would become a true vaquero, mastering every aspect of cattle rearing, taught to him by his adopted family, the Wapishanas, whilst managing Dadanawa.
In 1968, Brock moved to the USA, where he had been making regular leading appearances on Wild Kingdom, a half-hour television show programme centred on nature and wildlife, which regularly attracted 32 million viewers on Sundays, from 1963-1971. The show's creator Don Meier had recruited Brock on a visit to Dadanawa, impressed by his mastery of the lasso, perfected whilst pursuing the wild bulls and horses on horseback at the ranch.
Meier's targets for the fearless Brock, who had endured several close encounters with jaguars and camoodies at the ranch  were the wild beasts of the African continent. Brock was involved in several spectacular high speed chases for the programme, including what's considered the wildest of them, the African Buffalo, the "M'Bogo" and a near death escape whilst attempting to control a grizzly bear.
 After Brock's run on the show came to an end, he still had a promise to fulfill to the Wapishanas."My vision for Remote Area Medical developed when I suffered a personal injury while living among the Wapishana Indians in Guyana, South America. I was isolated from medical care, which was about a 26 day journey away. I witnessed the near devastation of whole tribes by what would have been simple or minor illnesses to more advanced cultures. When I left Guyana, I vowed to find a way to deliver basic medical aid to people in the world's inaccessible regions. So, in 1985 I established the non-profit, Remote Area Medical (RAM), as the way I have kept that promise, not only to the Wapishana Indians, but to thousands around the world in similar conditions. In other words, there are Wapishanas everywhere," Stan Brock, Founder and President of RAM, was quoted as saying on RAM's website.
Stan Brock, adopted Wapishana, vaquero, bush pilot, writer, television and movie star would dedicate the rest of his life to the field of philanthropy. Every single resource Brock could lay his hands was ploughed into RAM, whose initial focus was Guyana and the Third World. In 1992, RAM commenced doing medical outreach programmes within the USA, providing free medical, dental and vision care to thousands who had no access to or could not afford health insurance.
RAM has relied solely on the power of volunteers of which there are over 120,000, and donations, and the charismatic leadership of Brock.  Brock's efforts attracted coverage from major newspapers such as The Times of London and The New York Times.  The American investigative television show 60 Minutes revealed the frugality of Brock's lifestyle, whose worldly possessions were a bed roll and a canteen for his simple meals of fruit, oatmeal and water. RAM's founder never earned a salary and any personal awards were automatically put into the charity.
Brock, who wrote for several magazines, penned three books on his experiences in Guyana; Leemo, A Man's True Friendship with a Mountain Lion (1967), More about Leemo (1967), Jungle Cowboy (1969) – later republished as, All the Cowboys were Indians (1999), never forgot his relationship with Guyana. Today, there is a RAM plane permanently based in the Rupununi, always at the ready for any emergency medical evacuation from the interior to the coastlands.
 RAM's Mission Statement – To prevent pain and alleviate suffering by providing free quality healthcare to those in need – and the organisation's four foundational principles of Serving Humanity, Empowering Communities, Generating People Power and Providing free Quality Services are well worth reflecting on.
We, as a Nation, should never forget  Stan Brock, our adopted son, who chose to spend his latter life in selfless service to mankind.
Around the Web