Dear Editor,
Last Wednesday, March 24, I was part of the Parliamentary Oversight Committee for the Security Sector that inspected police stations at Moruka, Matthews Ridge, Port Kaituma and Mabaruma in Region One.
To his credit, our Committee Chairman Khemraj Ramjattan, Minister of Public Security, instructed his police ranks to be truthful and straightforward in answering our questions, and I am satisfied that this was done.
Because of this candid interaction with the ranks, I was able to ascertain the state of readiness of our police force in those communities, and the conditions under which they live and work.
Editor, we demand professionalism of our men and women in uniform who put their lives on the line every day to keep us safe. They in turn, need to be assured of our support and commitment in providing them with the tools to keep them safe, and to get the job done. Sadly, much is needed to provide the basic level of comfort to those police officers, most of whom have been transferred from locations far away from home.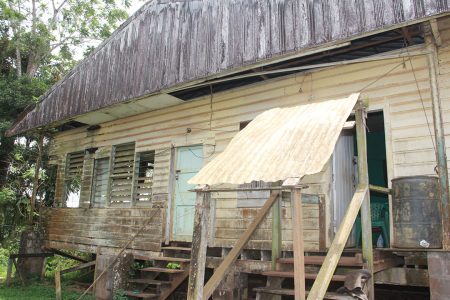 The police in Region One are challenged to cope with the routine criminal activities they are confronted with on a daily basis. Every police station is short-staffed and is in dire need of transportation, adequate manpower, more and better weapons.
There is no defined policy guideline to deal with Venezuelans crossing the border, working here illegally and setting up prostitution rings.
Living quarters for police officers are mostly cramped and inadequate. In Port Kaituma, Police Sergeant Connell is forced to live in a dilapidated building that should have been demolished a long time ago. So when I read in the press that Minister Ramjattan will be sending in more law enforcement officers to deal with the threat emerging from the Venezuelan gang known as the 'Sindicatos', I wonder where he propose to house these additional ranks, and how will they be able to confront the Sindicatos without transportation and effective communication.
Unless police officers in Region One are given the tools to get the job done, even with additional ranks, they will be powerless to challenge any threat emerging from that notorious Venezuelan gang.
A reliable communication system is extremely vital to any police station, more so those located in rural isolated areas. Yet the police radio at Moruca has not been working since October of last year. Without a replacement and telephone land-line, the only form of communication available to these police officers are their personal cell phones. This is totally unacceptable.
The lack of adequate transportation is a common problem facing all police stations in Region One. Moruca has been without a 4×4 vehicle since 2012, and one of the two ATVs is non-operational due to smooth tyres.
A common request I've heard throughout this inspection tour, is the need for female police officers to deal with cases of rape, domestic violence, child abuse, etc. The station at Moruca is without a female police officer and has no female living quarters, compromising not only the gathering of evidence, but the privacy of those women who have been raped or sexually assaulted.
Throughout, those police officers that were transferred from other locations to work in Region One are dissatisfied with the three months they are required to serve before they're given two-weeks vacation to visit their families. Due to the shortage of staff, some are required to work much longer to attend court proceedings with prisoners. To make matters worse, unless a police officer is required to escort a prisoner to Georgetown, he has to pay his own transportation to and from home which often includes costly airfares.
When police officers are transferred for such lengthy periods away from their wives and husbands, this can easily contribute to serious social ills and broken homes, and I would urge that this policy be reviewed.
While the Minister of Public Security admitted that he is aware of some of the "harsh" conditions that exist in some locations, it appears that the chain of command is failing to address the basic needs of police officers in this Region.
The 2018 Capital Expenditure for the Police Force is $11.5 Billion, yet inexpensive necessities such as a few black tanks to store water; a four-burner gas stove and kitchen utensils needed to cook food for police ranks and prisoners are some of the items in demand at the Matthews Ridge and Port Kaituma Police Stations, and I'd be surprised if those sitting in cosy offices at Eve Leary are not aware of this. Yet little is done to improve the quality of life of police officers in these rural areas.
Also in Matthews Ridge, there is an urgent need to build additional prison cells to accommodate prisoners during court days. At times, the police are forced to house between 18-26 prisoners in the two unsecured lock-ups, each measuring about 5×6 feet. Even prisoners deserve to be treated with some level of compassion.
Although the police have knowledge of a number of Venezuelan men working illegally in Region One, and organized prostitution rings involving Venezuelan nationals, they lack transportation and language skills to clamp down on these illegal activities which are likely to include trafficking in persons.
During the briefing, I was surprised to hear the Minister of Public Security say, "I hear they gat some fella in the backlands hay does claim that he big, and he's a big trafficker… and he gat he own boat and so on, and sey police can't do he nuttin." Yet Minister Ramjattan failed to ask the police why is this "big trafficker" is allowed to defy the laws of Guyana with impunity. Did the Minister report this to SOCU, the agency that was set up specifically to deal with organized crime?
Instead of running behind the former Attorney General Anil Nandlall hoping to indict him for law journals, SOCUs resources could be best utilized tracking these "big traffickers" and other organized criminal gangs that wreak havoc in the hinterland region. Is this trafficker being protected by some big official?
My main concern with the news of this organized prostitution ring, is the need to prevent the spread of AIDS and other social diseases from putting an additional burden on our already fragile health services. A joint task force involving the police and the Ministry of Health is needed to address this possible looming crisis. No official policy decision has been taken so far to address the problem of non-nationals in the Region.
The police station at Port Kaituma is in dire need of a vehicle and a boat with a 200HP engine to patrol the riverine communities to restrict the flow of drugs and other illegal items, as well as to deter crime.
At a forum the Parliamentary Oversight Community for the Security Sector held with residents before our departure, a businessman described Kumaka as a lawless town. Despite the presence of the Coast Guard, Police, Immigration and GRA at the port entry, he claimed that "everything does come into Kumaka to sell. Guns, cocaine, ammunition does be coming in to this port." He said that the Venezuelans are coming here looking for help, but at the same time, "they bringing all sorts of things here to sell." He urged the police and GRA to do "fine checks" to prevent these illegal items from coming into Guyana because as he puts it, "We small community is being destroyed by what is happening here. In the Kumaka area where I live, some nights you can hear shooting."
It is believed that some unscrupulous customs officers are taking bribes to allow clearance of these illegal items. Here again, SOCU can play a major role in bringing these culprits to justice.
A call was made to have a police station built in Kumaka to ensure a permanent police presence in this high-crime area. Although Minister Ramjattan agreed that this is necessary, he cited the lack of resources to get this done. He was then informed that the people of Mabaruma are prepared to build a police outpost at Kumaka. What they are asking is for government to provide the manpower, vehicles and communication system to manage the outpost effectively.
Minister Ramjattan welcomed this as "great news". One of the concerns expressed by the Minister is the failure to recruit locals into the Force. He made several appeals for Indigenous people to enrol into the police service… "We're still short of about 600 policemen, but we're not seeing Amerindians willing to join the Force."
Overall, this was a very successful fact-finding mission that hopefully will soon yield results to alleviate the threats facing our police officers in Region One.
Yours faithfully,
Harry Gill, MP
PPP/C
Around the Web