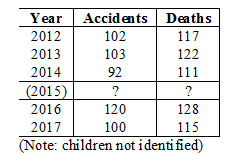 Dear Editor,
As one who must commute, more often than not, by taxi, SN's editorial of Sunday 29 April, rings a troublingly familiar bell, except perhaps for those who should be responsible for what is dangerously described as 'Road Safety'.
The following figures were extracted from SN's presentation which demands urgent attention, from all who have survived so far.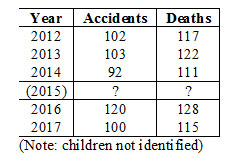 The editorial goes on to quote the following information recently offered by the Commissioner of Police (ag) in respect of 2017:
i) of 9540 drivers breathalysed 3461 were found above the limit (no relevant disciplinary action appears to have been mentioned)
ii) of a total of 115 deaths in 2017
– 71 were from a combination of
speeding;
– 15 were from speeding and drunken
driving;
– 5 were from drunk driving alone
Presumably the remaining 24 deaths were caused by sober drivers.
A critical clue that may have been omitted from the presentation by the Commissioner (ag) relates to the locations of the various categories of accidents, an analysis of which may well suggest what cautionary traffic signage could help to minimise the recurrence of such fatalities.
In this regard one cannot help harking back to a study issued some time ago by the Inter-American Development Bank (IDB).
It referred to other contributory factors such as:
– inadequate condition of vehicle
– inadequate traffic signage
– inadequate construction and mainte
nance of roadways
– depending on the time of the accident,
adequate lighting
– weather conditions at time of acci
dent, and of course others
Critically, the study observed that while the concentration is on deaths, insufficient account is taken of the number of injured survivors. It posited that survivors of traffic accidents frequently suffer physical and/or psychological damage that can remain for the rest of their lives.
But, there is also the dimension wherein the injured could be breadwinners of the families who are of course consequentially affected.
In short a fatal accident impacts long after 'death'.
So that a case can be argued for the collection of more definitive data on traffic accidents with a view to informing a more comprehensive preventative strategy in this country.
But it would be simplistic to think that this should just be a police initiative. Any strategy of consequence must involve the following stakeholders, at least:
– Vehicle Importers
– Vehicle Insurers
– Licensing Authorities
– Legal Practitioners concerned
– Medical Practitioners
– Owners of Heavy Transport Vehicles
– Minibus and Taxi Representation
We simply cannot continue to sit, stand, lay-by watching our meagre population diminished by a substantive lack of incompetence in road traffic management.
How come one does not hear of the number of annual prosecutions and the results?
Yours faithfully,
E.B. John
Around the Web