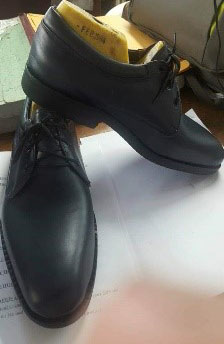 Dear Editor,
At Mora, a village located in Moruca, Region 1, the youths are eager to learn leather craft as a skill.  They have great potential that needs to be developed and given adequate  support of finance and technical education, training will contribute to  job creation for the area.
I have made several visits to Moruca and there have been continuous requests from Fieona Benjamin, AFC Youth Leader, for me to assist in creating jobs for the youths of Mora.  I returned and spent time from the 16th to 20th June, 2018, where I decided to share with the youths, 37 years of my knowledge, skill and experience in the field of leather craft.  I conducted a three-day assessment of the youths. Ten of them were given guidance in making their own crafted leather slippers whilst six were guided in the making of shoes and sandals. After two days of this exercise, they were creating their own style of slippers from the remaining materials.  The level of interest demonstrated by the youths was exceptional. This exercise indicated there is a high possibility for job creation in the field of leather craft. With encouragement, guidance and a structured programme that is financially supported, the youths will have an opportunity to be gainfully employed in actively engaging in the manufacturing of leather products, as entrepreneurs and future teachers where the knowledge and skill can be imparted to students. After my first visit to Moruca, I had the desire to educate the youths along the area of how to tan their own leather using hides and skins from Region 2, also in Region 3. At present they lack such knowledge.
The commencement of the training will require a six weeks programme approximately costing forty-five to eighty-five thousand dollars per person. The cost will cover training fees, materials, tools, transportation and other costs depending on the area of skill.  At the conclusion of training, the youths will acquire  comprehensive knowledge that enables them to proceed in developing the productive skill.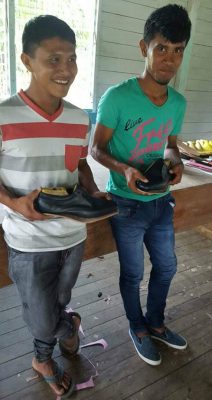 As an AFC Executive Member and a Member of Parliament, I feel compelled to make representation for the people of Moruca, most of them have no interest in living in Benabs, they desire for a system of governance from their village Council, Regional Democratic Council, and government as a whole where cooperation occurs.  The division within the rule of politics is one of the main hindrances to the development of the area. 
I ventured out to Moruca, to conduct training in tanning, leather craft, shoe making  also shoes  and bags repair  in the village of Mora. When I arrived, complaints were received from the majority of people who said that although they had supported  the previous government all the years, they never provided water or electricity for them, that the main lines passed right in front the village and it is  about three-quarters of a  mile away, the main road is not maintained and there are hardly jobs for the youths.  The village has almost 100 houses and each home spent a $1000 in gas a day.  I did a quick calculation for 85 homes at just 25 gal of gas a month for each home. I was astonished to see the total was $25.5 million a year, this means the village is losing approximately $20 million a year because of non-supply of electricity from the regional electricity system, or because there is no generator system for the village. Therefore, I am calling on all the elected authorities to do much more in their planning to foster development in Mora/Moruca, Region 1 as it is heart-breaking to see bread as a commodity coming from Georgetown to sell in the village.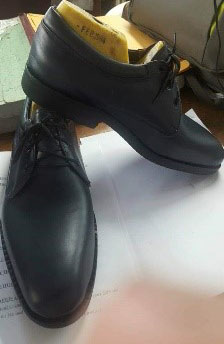 Education in various aspects of skills like leather craft and looking at other areas within Mora village culture is required for the people to develop, enable self-sufficiency, and productivity, while creating a tourist attraction environment to attract both local and foreign tourists which will contribute to creating of jobs in the village.
Yours faithfully,
Michael Carrington MP
Around the Web