Bartica man intercepted with ganja
A 26-year-old man was on Saturday arrested at Bartica after police intercepted him with a quantity of cannabis at the Bartica Stelling.Reports indicate that ranks stationed at Bartica, acting on information went to the Bartica Stelling and arrested the  resident moments after he disembarked a speed boat with 1,027 grams of cannabis.The suspect who told the lawmen that he was asked to deliver the illegal substance, is being processed for court.
Comments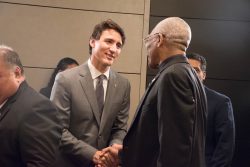 President David Granger (right) greeting Canadian Prime Minister Justin Trudeau yesterday at a meeting of Heads of Small Islands Developing States in London, England where the President is attending the Commonwealth Heads of Government Summit.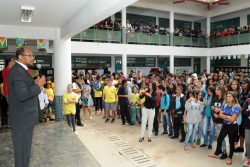 A team headed by Guyana's Ambassador to Brazil, George Talbot, recently visited the Dr.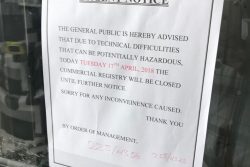 The Commercial Registry on the Avenue of the Republic was closed yesterday until further notice due to "technical difficulties", according to a sign posted at its Avenue of the Republic office.

Students involved in jewellery making at the Burrowes School of Arts were on Saturday advised by  Minister of Business, Dominic Gaskin of opportunities in the industry, according to the Department of Public Information (DPI).