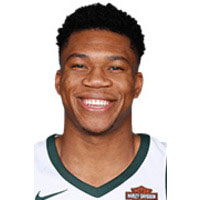 (Field Level Media) Milwaukee Bucks star Giannis Antetokounmpo, not LeBron James, is the leading vote-getter in the first NBA All-Star ballot update, released Thursday.
Antetokounmpo received 863,416 votes to edge James (856,080) by nearly 7,500 votes for the top spot in the Eastern Conference and overall after the first 12 days of balloting. Boston Celtics guard Kyrie Irving is third overall with 802,834 votes.
In the Western Conference, Golden State Warriors teammates Kevin Durant (767,402) and Stephen Curry (735,115) pace the competition. Houston Rockets guard James Harden (602,040) is third, followed by reigning MVP Russell Westbrook (438,469).
Antetokounmpo, 23, is second in the NBA in scoring (29.1 points per game) and ranks in the top 20 in blocks, steals and rebounds.
Under a new All-Star Game format, the players who receive the most votes in the Eastern Conference and Western Conference will each serve as a captain and will choose teams from the pool of players voted in as starters and reserves.
Like previous seasons, the starters will be determined by the fan vote (50 percent) as well as a vote among current players and media (25 percent each).
The starters and captains will be revealed on Jan. 18 and the reserves will be announced on Jan. 23. Full team rosters will be announced on Jan. 25. The second ballot update will be shared next Thursday. Voting concludes Jan. 15.
The NBA All-Star Game will take place on Sunday, Feb. 18 at Staples Center in Los Angeles.
Around the Web