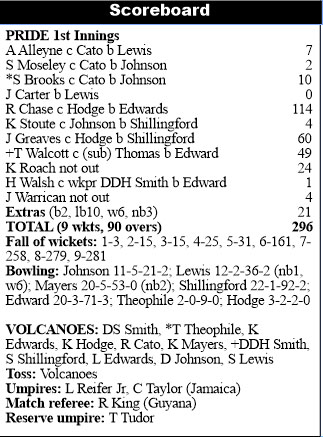 BRIDGETOWN, Barbados,  CMC – Roston Chase announced his return to the domestic scene with his seventh first-class hundred which propped up Barbados Pride's batting against Windward Islands Volcanoes in the Regional 4-Day Championship on Thursday here.
The West Indies batsman survived two chances to lead a rescue operation for the Pride, gathering 114 and taking the hosts to 296 for nine in their first innings at the close, after they were put in to bat on the first day of their eighth-round match at Kensington Oval.
Chase struck 11 fours and two sixes from 225 balls in a shade over 5 ¼ hours, sharing important stands with club-mate Justin Greaves and newcomer Tevyn Walcott that pulled the Pride around from a treacherous 31 for five.
Greaves scored 60 in sharing 131 for the sixth wicket with Chase, and Walcott made 49, putting on a further 97 for the seventh wicket with the returning Windies star.
The 25-year-old Chase reached his third regional first-class hundred from 188 balls, when he guided a delivery from Barbados-born all-rounder Kyle Mayers to third man for his 10th four.
He however, was dismissed in the closing stages of the day to left-arm spinner Larry Edward, whose 3-71 from 20 overs made him the Volcanoes' most successful bowler.
Watched by a crowd that included Cricket West Indies vice president Emmanuel Nanthan, the Windwards Cricket Board president, and West Indies selector Lockhart Sebastien, Volcanoes carved up the Pride's top-order batting in the morning session with disciplined, if not devastating bowling, after being greeted by a helpful, green-top pitch.
Lanky left-arm fast bowler Delorn Johnson made the breakthrough, when he had Shayne Moseley caught at second slip for two from a loose drive.
Shermon Lewis struck with successive deliveries to put the Pride on their heels at 15 for three, when he had Anthony Alleyne, the home team's other left-handed opener, caught in the same position for seven, flirting outside the off-side, and bowled Jonathan Carter, another left-hander, with a well-pitched yorker.
Pride sunk to 25 for four, when their captain Shamarh Brooks was brilliantly caught by Roland Cato left-handed, low at second slip off Johnson for 10 before veteran off-spinner Shane Shillingford, making his 100th regional first-class appearance, had Kevin Stoute caught at mid-on for four from a flawed on-drive.
Greaves came to the crease and started the operation to rebuild the innings with Chase, taking Pride to 61 for five at lunch.
Chase was fortunate before the interval to have gained an early reprieve on one, when Johnson failed to hold onto a sharp, high chance.
After lunch, Chase had another slice of good fortune on 14, when substitute fielder Josh Thomas muffed a skier at fine leg from a top-edged sweep off Shillingford.
After this let-off, Chase buckled down and with Greaves gradually eased the tension in the Pride dressing room, both reaching the half-century mark in the final half-hour before tea.
But Greaves was caught at forward short leg off Shillingford just before the break after a 2 ¼-hour stay in which he struck nine fours from 94 balls.
Walcott came to the crease and with Chase carried Pride to 171 for six at tea before they emerged from the break to continue the repair job.
Chase continued to inch to his milestone, but Walcott was a revelation, playing some handsome strokes, including the shot-of-the-day, a sublime extra-cover push off Mayers for one of his nine fours.
He stayed long enough to usher Chase to his milestone, but Edward, who has played the game domestically in Barbados for club champions University of the West Indies, was brought on for an extended spell from the northern (3Ws Stand) end with a day waning and he broke the partnership.
Edward had Walcott caught at short mid-wicket before he added Chase caught at extra cover three overs later and Hayden Walsh, Jr caught behind for one in the final half-hour to put the game back in the balance before West Indies fast bowler Kemar Roach, not out on 24, and fellow Test player Jomel Warrican, not out on four, batted through the final three overs before stumps were drawn.
Johnson, who was stretchered off the field after sustaining a leg injury while executing a piece of fielding, ended the day with 2-21 from 11 overs, Lewis bagged 2-36 from 12 overs and Shillingford 2-92 from 22 overs.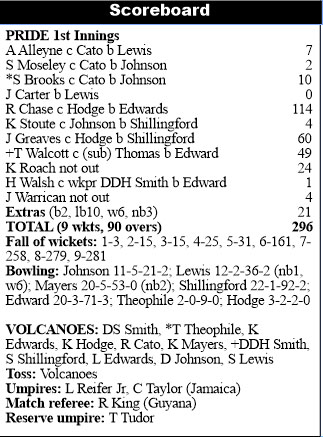 Pride omitted all-rounders Kenroy Williams and Shamar Springer from their match squad, and Volcanoes left out Miles Bascombe and Josh Thomas.
Pride – second in the table on 75.2 points before the match – have so far gained two batting points and Volcanoes – last on 52.2 points entering the match – have so far earned three bowling points plus 0.8 pace bowling points.
Around the Web