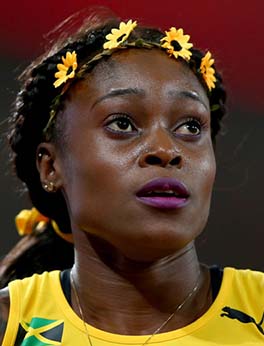 (Jamaica Gleaner) Even though she is brilliant in the 200 metres, double Olympic champion Elaine Thompson loves the 100 metres more. That's because she believes she is better at the shorter event. Speaking in Kingston in her first interview of the new year, she also expressed her love for relay running.
"I know people will be disappointed if I choose the 100, but I think I'm a better 100 metre sprinter than the 200," she said.
Though her first international medal came when she took second place in the longer event in 21.66 seconds at the 2015 World Champion-ships, she cheerfully emphasised, "I rather the 100 than the 200."
That time missed Merlene Ottey's national record by just 0.02 but her 2016 Olympic Games double proved her worth in both the 100 and 200 metres.
Record equalled
She equalled Shelly-Ann Fraser-Pryce's Jamaican 100 metre record of 10.70 seconds before the Games and, though she is a relative newcomer to world class sprinting, she already has six times under 10.80 seconds.
Accordingly, Track And Field News, the respected US publication has placed her atop its annual world rankings for the 100 metres for both 2016 and 2017.
Conversing just after a MVP Track Club training session at the University of Technology on January 2, the 25 year-old revealed her joy in relay racing.
"Honestly, relay is a team event and I've done so many individual races with just my effort so I want to help others to actually get that achievement as myself", she said.
After running the third leg on the winning 2015 World Championships 4×100 team, she earned a silver medal at the Olympics.
Injury kept her out of Jamaica's team at the Worlds last year but the season still had a fair portion of fast relay work by the Banana Ground native. She sizzled through a 21.7 second anchor leg to seal a 4×200 metre win at the IAAF World Relays and a week later, did the same at the Penn Relays in the 4x100m. Finally, after the World Championships, she closed a Jamaican 4x100m victory in Zurich.
The World Relays success took only 1 minutes 29.04 seconds for Jura Levy, Shericka Jackson, Shashalee Forbes and Thompson. That time is a meet record and makes Jamaica the third fastest nation of all time in the 2-lap sprint relay.
Around the Web