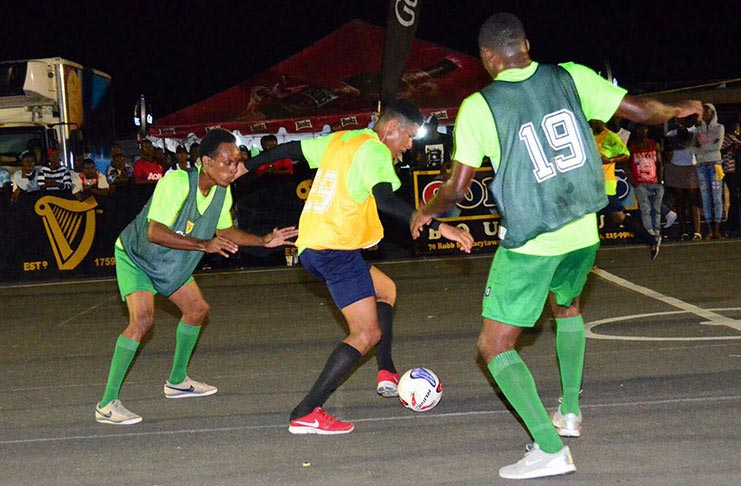 The 4th edition of the Guinness 'Greatest of the Streets' West Demerara/East Bank Demerara zone, will officially kick off on Friday January 26th at the Pouderoyen Tarmac.
The event which is slated to feature 32 teams, will be contested over six playing dates. The participants will be divided into eight groups of four teams, with the top two finishers in each pool, advancing to the round of 16 stage.
All matches will be staged at the Pouderoyen Tarmac, with the other playing dates being January 31st, February 2nd, 7th, 9th and 16th.
Tournament co-coordinator Travis Best in an invited comment said, "It's going to be bigger and better than last year in terms of the spectators and quality of football. Last year was the first time we had such high quality football from start to finish and we are looking to better that."
According to Best, "We are also looking to expand the competition, to have more teams from the East Bank Demerara zone and to see who can dethrone [two-time winner] Showstoppers. Some of the teams that are expected to put in a good showing and possibly challenge for the title are Hustlers, Agricola Champ Boys, Bagotstown Warriors, ESPN, Samaroo Dam, Patentia Street Ballers and Jetty Gunners."
He further revealed, "The top 16 finishers from last year's tournament will automatically qualify for the group round. The other 16 teams will have to battle in the playoff round to qualify for the remaining 16 berths in the group stage."
Winner of the tournament will pocket $400,000 and the championship trophy. On the other hand, the runner-up will receive $200,000 and the corresponding accolade.
Meanwhile, the third placed finisher will receive $150,000 and a trophy, whilst the fourth placed unit will walk away with $100,000 and a trophy.
The registration process officially closes on the January 18th. All teams are expected to contact and submit their participation forms to the coordinator on 694-2915.
Around the Web