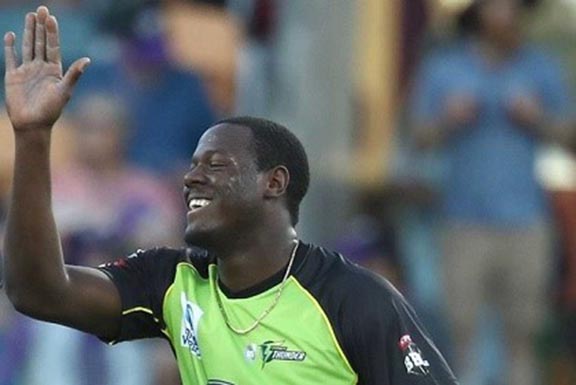 SYDNEY, Australia, CMC – West Indies Twenty20 captain, Carlos Brathwaite, hopes he can have an impact in his short stint with struggling Sydney Sixers in the Australian Big Bash.
The barrel-chested all-rounder joins an outfit which are winless in six matches this season, and with no chance of making the advanced stage of the glitzy T20 tournament
"I'm hitting the ball well, bowling decent, and hopefully my (BBL) performances can be replicated or even improved,'' Brathwaite said.
"Coming into a team that is 0-6 is just as hard if the team was 6-0 and I was replacing a guy who had hit five fifties. In any environment you need to gel with guys, find my role and be able to execute when the team needs me."
He added: "Whatever happens, families are coming to the game and they want to see good cricket. You want to have that flair, that character, performance is the most important, but you also need to bring life and energy to the crowd who paid their hard-earned [money] to see you in your natural habitat."
Brathwaite is returning to the BBL for the second straight season after ironically representing Sixers' cross-town rivals, Sydney Thunder, in a couple of matches at the back end of the last campaign.
Thunder have also struggled somewhat this season, with just two wins in six outings, to lie sixth in the eight-team standings.
Despite his previous ties to Thunder, however, the big-hitting Brathwaite said he was fully committed to excelling in his new colours.
"I want to put in a good performance and come out on top in the magenta (Sixers colours). If we get four wins for the Sixers, I'm sure I'll look better in magenta," he explained.
"The beauty of franchise cricket is you make friends, you move on, but the friendships remain."
Brathwaite's first game will come when Sixers take on Thunder in the derby known as the Sydney Smash, at the Sydney Cricket Ground on Saturday.
Around the Web