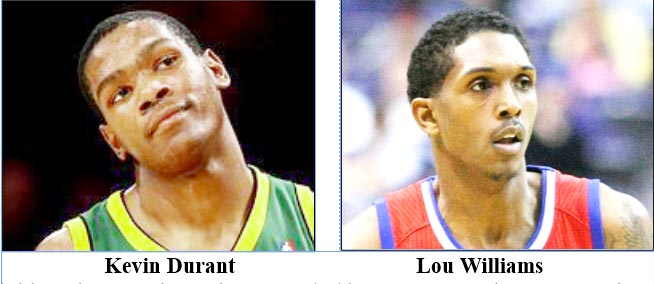 (Field Level Media) Lou Williams scored a career-best 50 points and added seven assists to help the Los Angeles Clippers snap a 12-game, head-to-head losing streak against Golden State by dispatching the Warriors 125-106 on Wednesday at Oakland, Calif.
Williams scored 27 points in the third quarter — the most by any NBA player in any quarter this season — as the Clippers rallied from a nine-point deficit to spoil a milestone night for Kevin Durant. The Golden State standout scored a season-high 40 points on 14-of-18 shooting to become the second-youngest player in NBA history to reach 20,000 career points.
Williams shot 16 of 27 from the floor and made 8 of 16 3-point attempts while notching his third 40-point outing of the season. Rookie Tyrone Wallace scored 22 points in his third NBA game for the Clippers, who were without forward Blake Griffin (concussion) for the second consecutive game.
Durant reached the 20,000-point barrier at 29 years, 103 days old. Only LeBron James (28 years, 17 days) reached the mark quicker. Durant, the 44th player in NBA history to hit the milestone, ended the night with 20,015 points.
Durant (calf) returned from a three-game absence to carry the load with point guard Stephen Curry (ankle) and shooting guard Klay Thompson (rest) out of the Golden State lineup. He was 6 of 7 from 3-point range but couldn't prevent the end of a five-game winning streak for Golden State, which is an NBA-best 33-9.
Williams fueled the Clippers' 39-point third quarter as they took a 97-90 lead into the final stanza. Los Angeles trailed by nine just prior to the midway point of the third quarter but rattled off 13 consecutive points to take an 85-81 edge on Williams' basket with 3:55 remaining.
Williams scored 18 consecutive Los Angeles points and ended his splurge with a 3-pointer with 4.2 seconds left in the period.
"Third quarter I had a great stretch," Williams said during a postgame interview on ESPN. "I had a couple of 15-foot jumpers, rhythm shots. Scorers, when we get shots like that, the basket feels extremely big. Tonight it was a good night for me and I was able to make shots."
The momentum continued in the fourth quarter as Los Angeles opened with a 14-2 push to take a 111-92 advantage with 6:17 remaining. Williams reached a high for points when he buried a 3-pointer to make it 122-102 with 2:36 left and later knocked down another 3-pointer to increase his total to 50.
Curry sprained his right ankle during the late-morning shootaround, and the Warriors opted to hold him out.
Durant scored 25 points on 9-of-10 shooting in the first half to give Golden State a 62-58 lead at the break. He reached 20,000 when he knocked down a 22-footer from the left wing with 1:41 remaining before halftime.
Comments

MOUNT MAUNGANUI, New Zealand, CMC – West Indies Under-19s' title defence ended in shambles with a heavy 76-run defeat to South Africa Under-19s, but controversy accompanied their disappointing exit from the ICC Youth World Cup here Wednesday.

NEW DELHI, India, CMC Superstar Chris Gayle headlines several top-tier West Indies players who will join over 1 000 players in the highly anticipated Indian Premier League auction scheduled for month end.

BELFAST, Ireland, CMC Two-time former 50-overs champions West Indies maybe the highest seeded side in the ICC World Cup qualifiers but they hold no terrors for minnows Ireland.

With only one day remaining for the registration process of the Guinness Greatest of the Streets West Demerara/East Bank Demerara zone, approximately 24 teams have submitted their participation forms for the qualifying stages.

Coach of the already crowned champions of the 2017/18 edition of Cricket West Indies Regional four-day first-class championships, Esaun Crandon, has suggested that there will be little tinkering to the squad set to take on the Trinidad and Tobago Red Force in their final round match, which begins at the Guyana National Stadium tomorrow.