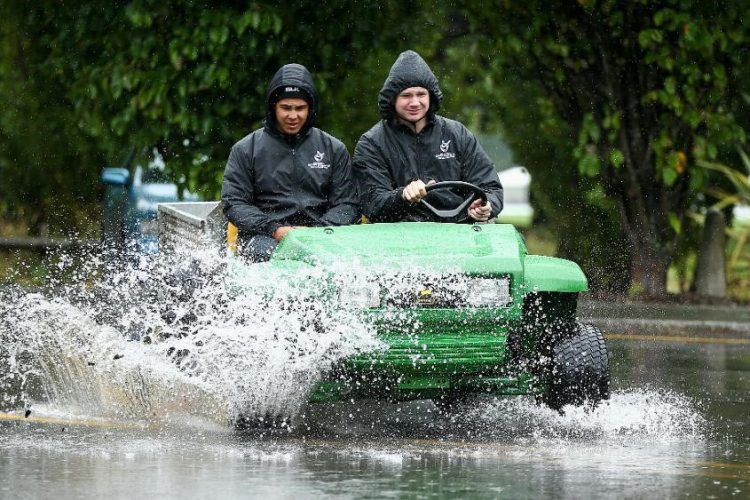 (ICC) The warm-up matches ahead of the ICC U19 Cricket World Cup 2018 were washed out for a second straight day as it continued to pour across Christchurch.
Australia and India, who have won the title three times each, were among the teams scheduled to play yesterday after having won their earlier warm-up games in preparation for the tournament proper, which gets underway tomorrow.
Australia were to take on former champions South Africa while India were slotted to play Kenya. In other matches, former champions England were to face off against Sri Lanka and Canada were to play Ireland.
The 22-day tournament, featuring 16 teams and being played across seven venues in the cities of Christchurch, Queenstown, Tauranga and Whangarei, will see 20 matches being broadcast live and there will also be elaborate digital coverage.
Defending champions the Windies are slotted to play hosts New Zealand in what is the showpiece match from among four scheduled for the opening day on 13 January and the teams were not too bothered about the loss of their practice games ahead of the Tauranga fixture.
New Zealand coach Paul Wiseman: "We've missed a couple of games due to rain but that's what it is and we just have to trust we have done the work through the winter and at the U19 national tournaments. Those will hold us in good stead. Growing up on the sort of pitches we play on here, maybe against teams that have been brought up on lower pitches there may be an advantage for us, it'll be nice to have some home support as well."
Windies coach Graeme West: "We have got some good work in when the weather has permitted so we are pretty pleased with how things are going. The guys are obviously very excited about the first game, beginning to realise how big the tournament is here in New Zealand, where we are expecting a big crowd for the first game supporting the home side. It adds to the challenge and the excitement."
Comments

Christopher Barnwell smashed a belligerent century to power the Demerara Cricket Club (DCC) to a commanding eight-win over the Everest Cricket Club (ECC) in their Georgetown Cricket Association (GCA)/GISE/Star Party Rental/Trophy Stall first-division, two-day encounter on the final day at the DCC ground, yesterday.

Sparta Boss, Gold is Money, Tiger Bay and Leopold Street sealed their berths to the quarterfinal round following round of 16 wins, when the Petra Organization Futsal Championship continued on Saturday at the National Gymnasium, Mandela Avenue.

`F' Division Flyers defeated the Felix Austin College by 48 runs at Eve Leary when the fourth annual Police Commissioner's T20 Cup cricket competition continued recently.

`We Stand United's' Deeraj Garbarran won his first major cycle race when he won the ninth annual  Cheddi Jagan Memorial Road race second leg yesterday.

Malteenoes Sports Club (MSC) and GNIC recorded wins in the Georgetown Cricket Association (GCA)/GISE/Star Party Rental/Trophy Stall, first-division, two-day competition, yesterday.