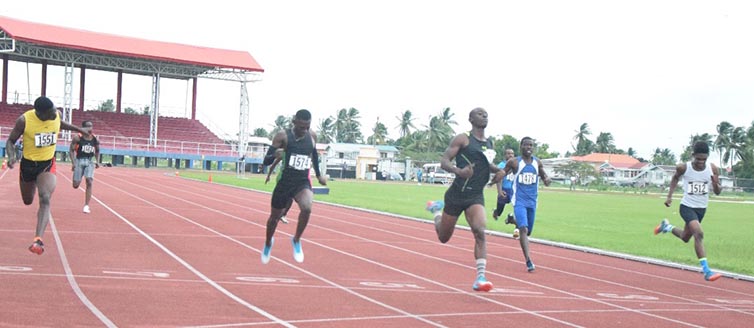 Daniel Williams along with athletes from the Running Brave Athletic Club (RBAC) and the Guyana Defence Force (GDF) were some of the star performers of the first Athletics Association of Guyana (AAG) Development Meet for the 2018 season yesterday.
Here are some of the highlights of the event which was staged at the National Track and Field Centre:
80m Boys 17-19
Williams, the 2017 400m World Youth Games silver medalist powered to victory in the 80m to open the competitive season in a breezy 8.48s. The Upper Demerara Club star athlete took the top honours ahead of Christianburg club mates, Jennis Benjamin (8.60s) and Shimar Velloza (9.04s).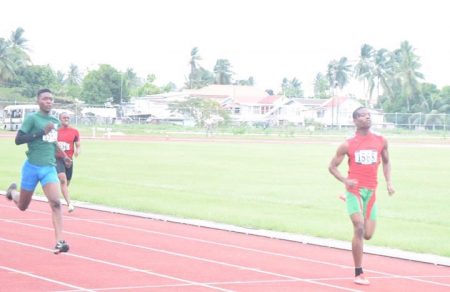 300m Boys 17-19
Williams who was the only athlete to record a double, then returned to win the 300m event ahead of Lonell Marks (36.72s) and Benjamin (36.99s). The 17 year-old stopped the clock in (35:57s).
600m Male Open
RBAC's Devaughn Barrington took control of the event in the final 100m and never relinquished  the lead. The club's standout then turned on the jets in the final 60m to put an exclamation mark on the impressive showing. The national athlete won the race in a brisk one minute and 23 seconds ahead of the Army duo of Terrence Fraser (1m:24.39s) and Marlon Nicholson (1m:25.19s).
Boys 17-19 1200m
Barrington's club mate, Daniel Harvey (three minutes, 44.51 seconds) then finished ahead of Super Upcoming Runners' Aaron Fraser (3m:58.91s) and Daniel McArthur (4m:05.60s) of RBAC.
Boys 20+ Javelin Throw
National record holder, Leslain Baird of the Army was once again in a class of his own, throwing 70.74m to emphatically win the event. Police's Clarence Green (55.49m) and Army's Damon Williams finished second and third with a throw of 54.95m.
Boys 20+ Triple Jump
Baird's club mate, Lloyd McCurdy (15.55m) led a GDF one-two finish of the triple jump event, leading Damon Williams (14.64m) and Police's Dennis Roberts (13.65m) in the pit.
Other winners yesterday included: Winston Missigher (Boys 20+ 1200m), Royston Fordyce (Boys 20+ 2400m), Kimberly Williams (Girls 20 +Javelin) and Daquan Vancooten (Boys 20+ 150m).
The AAG will stage another Development Meet on January 28. More details on that event will be published in a subsequent article.
Around the Web