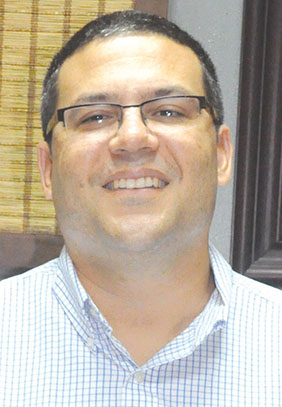 Following a historic year for the discipline of hockey in 2017, Guyana Hockey Board (GHB) President and ardent sports enthusiast Philip Fernandes, spoke to Stabroek Sports, during an exclusive interview on the accomplishments and challenges faced during 2017, and what will be the focus for 2018.
1.How would you describe 2017 from a developmental perspective for the sport of hockey?
"I think 2017 was one of the best years for local hockey that we have had in a very long time. From a developmental perspective we successfully held our first junior schools league competition which was played over several weeks and was scheduled each week at a different school. This competition not only increased our playing numbers of school-aged kids but also exposed the game to the many students who stayed after school to cheer on their teams.
"In addition to that competition, we were able to complete an under-18 outdoor league for the first time in addition to our full regular season. These competitions served as a catalyst for clubs to place greater emphasis on developing their junior programs and encouraging a wider cross-section of children to participate in the sport. We definitely intend to use this model for 2018 and the future."
"In addition to our junior programme, our first ever hosting of a Pan American level event came at a timely juncture for us as so many of the children who are new to the sport were able to witness top level players compete first-hand."
2.What were some of the major accomplishments realized during the period?
"We held more local tournaments in 2017 than the recent past due to the addition of all our junior competitions. This is in keeping with our intention stated at the beginning of the year to place more emphasis on juniors and increasing the number of players in the game.
"We successfully hosted the Indoor Pan American Cup 2017 which is the biggest indoor hockey competition in all of the Americas and was the second largest edition in the competition's history.
"Our men and women both competed in the Central American and Caribbean Games qualified in Jamaica and for the first time ever, both teams have qualified for the Games. The women won the qualifier while the men lost on an improvised points calculation after the final had to be cancelled due to faulty lighting of the field. This means that the men were robbed the chance to duplicate the success of the women.
"Despite the bust year we still managed to host several foreign clubs in the annual Diamond Mineral Water Festival. We have exposed some of our officials to international competition experience by having two umpires travel overseas during the year to attend a course and officiate in tournaments.
"We also hosted the Pan American Umpires Development Coordinator during our Diamond Mineral Water Indoor Festival to work along with our local developing umpires. We secured the opportunity for one of our match judges during the Indoor Pan American Cup here in Guyana."
3.What were some of the disappointments and major challenges?
"One disappointment for the year was our inability to secure an area of land for an artificial hockey pitch. We have submitted a proposal to the Minster who seems interested in moving this project forward but of course such approvals take time. Meanwhile our players are having to prepare for big events like the CAC Games on inadequate surfaces. This is a major challenge for our national programmes as the game on artificial grass is quite different to the natural grass fields and our teams are usually at a big disadvantage which shows up especially in the early matches when our players are trying to re-familiarize themselves to the competition surface.
"Indoor hockey presents a different challenge as all indoor sports compete for time on the two national facilities in Georgetown, the National Gymnasium and the Cliff Anderson Sports Hall. While we did receive extra training time on the Sports Hall this year due to the Pan American Cup, there is still not enough time for each club from each discipline to train in these two facilities.
"Another main challenge is the early fading light during the latter half of the year. Since most sports facilities do not have lighting to accommodate full-field sports, we are challenged to complete matches at all during the week. Most players leave work at 4PM or later and it is difficult to get to the field, warm-up and still complete a full 70-minute match before it gets dark."
4What will be the focus of 2018 for the GHB and what mechanisms will be put in place to grow the sport further?
"With both the men's and women's hockey teams of Guyana attending the CAC Games for the first time, we have a big challenge in terms of preparation and funding. Guyana Hockey has a chance to secure its first ever medals in the games with its current crop of players if the preparation is done well. The handicap of not having an artificial pitch will no doubt make it a greater challenge but with the strong commitment of our players to this purpose, we hope to make up in other areas.
"We hope to also compile male and female squads this year to begin training together for the preparation of our next junior national teams. We intend to duplicate last year's busy local calendar of events which contained a number of senior and junior competitions.
"We intend to run off at least one coaching course this year and are also looking for ways to expose some of our officials maybe by sending them to any regional competitions."
5.Is the acquisition of a facility or home for the sport a priority for the GHB in 2018?
"This is a huge priority for us and it is a pity this has not been achieved as yet. We have been knocking on doors for a very long time, over 15 years, seeking a space for hockey to be played but so far this has remained elusive. Hockey continues to be played on cricket fields around the country and so field time is extremely limited as cricket takes priority in the dry months and hockey is not allowed in the wet ones".
6.How important is government support for hockey to realize many of its goals?
"The government is absolutely vital for hockey and any other sport to realize its potential. We have committed administrators, coaches and players who give their valuable time to the sport. Persons connected to the sport along with a few dedicated sponsors have managed to keep the sport afloat but in order for Guyana to truly become a formidable regional team, much is needed from the government. Better facilities and greater participation opportunities internationally are vital to bring our young players up to the level that is needed. The commitment is there and funds wisely spent in these two areas can change the landscape and reputation of Guyana internationally."
Around the Web