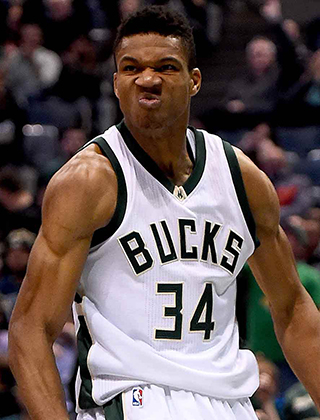 (Reuters) Giannis Antetokounmpo had 27 points with a career-high 20 rebounds and the Milwaukee Bucks snapped a two-game skid with a 104-95 victory over the Washington Wizards at Capital One Arena yesterday. Eric Bledsoe scored 23 for the Bucks, who went 8-of-16 from beyond the arc. Khris Middleton added 19 points for Milwaukee.
John Wall scored 22 of his 27 points in the first half and 16 in the first quarter for the Wizards, who finished a five-game homestand at 2-3. Bradley Beal finished with 19 points for Washington, but committed seven turnovers.
It was the Bucks' second win over the Wizards in the last 10 days, following a 110-103 victory Jan. 6 in Milwaukee.
Hawks 102, Spurs 99
Dennis Schroder scored 26 points, including two big buckets in the final 40 seconds, as Atlanta picked up a rare win over San Antonio in a matinee at Philips Arena in Atlanta.
Schroder hit a pull-up jumper and then followed it with a difficult, high-arching left-handed layup to help the Hawks beat the Spurs for only the second time in the last 15 meetings. After Schroder hit a pair of free throws to put the Hawks up three with seven seconds left, Spurs guard Danny Green missed a contested, potential tying 3-pointer as time expired.
Kawhi Leonard sat out for the fifth time in seven games to rest recent
shoulder and quad injuries, while the Spurs lost Manu Ginobili to a thigh contusion in the first quarter.
76ers 117, Raptors 111
Joel Embiid scored 34 points and grabbed 11 rebounds, T.J. McConnell added a career-high 18 points to go along with eight assists and Philadelphia held on for the victory over Toronto at the Wells Fargo Center in Philadelphia.
It was the seventh career game for Embiid with at least 30 points, and just the second win for the 76ers in the last 20 meetings between the two teams.
J.J. Redick contributed 15 before leaving in the fourth with a reported leg contusion. Ben Simmons added 12 before being ejected in the final minute along with Raptors guard Kyle Lowry, who returned after missing the last three games with a bruised tailbone.
Knicks 119, Nets 104
Kristaps Porzingis scored 26 points as New York dominated the fourth quarter en route to a 119-104 win over Brooklyn at Barclays Center.
Michael Beasley added 13 of his 23 points in the fourth quarter for the
Knicks, who opened a seven-game road trip by outscoring the Nets 36-23 in the final 12 minutes.
Beasley, whose minutes were reduced the previous two games because of Tim
Hardaway Jr's return from a leg injury, shot 10-of-18 as the Knicks rested Hardaway. He also grabbed 10 rebounds.
Bulls 119, Heat 111
Justin Holiday scored 25 points and Zach LaVine added 18 as Chicago topped red-hot Miami 119-111 at the United Center in Chicago.
Goran Dragic had 22 points and nine assists in a loss that snapped a seven-game winning streak for the Heat, who won at the Milwaukee Bucks on Sunday.
Participating in only his second game of the season, LaVine is the latest
player to add life to a Bulls squad that began the season 3-20 but has won 14 of its last 21. Limited to 20 minutes, he made 7 of 12 shots and added five rebounds and five assists.
Hornets 118, Pistons 107
Dwight Howard racked up 21 points, 17 rebounds and four blocks as Charlotte topped Detroit 118-107 in a matinee at Little Caesars Arena in Detroit.
Marvin Williams also scored 21 points while Kemba Walker supplied 20 points and nine assists for the Hornets. Nicolas Batum contributed 14 points, eight rebounds and five assists.
Charlotte shot 45.5 percent (10-of-22) from long distance to Detroit's 51.7 percent (15-of-29), but the Pistons allowed 68 second-half points while losing for the fifth time in seven games
Around the Web