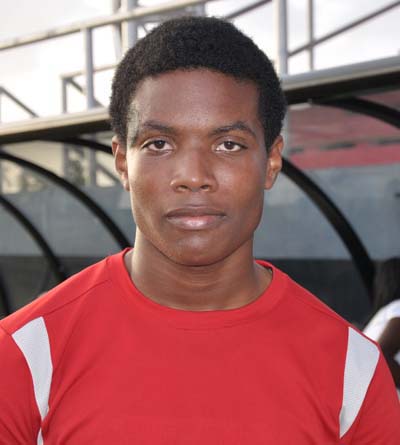 With his historic 2017 campaign officially in the rear view mirror, star athlete Daniel Williams and his coach, Johnny Gravesande have their sights set on an even better 2018 season.
The bar has been raised for the high jumper and track standout. "With the season he had last year, he is more confident in his abilities and he is poised to do better things this season," Gravesande told Stabroek Sport yesterday. It is obvious to anyone who has been paying attention just how talented Williams is. In 2017, the peerless 17 year-old Lindener won a silver medal at the World Under 18 Championships in Kenya in the 400m and then went on to obliterate several National School records.
The name Daniel Williams is now a household one but his coach acknowledges that he has a hunger for more.
"He has grown a bit, he is stronger and he is looking forward to running his personal bests." Williams holds PBs of 21.45s in the 200 and 46.72s in the quarter mile. Gravesande said that despite the World Under 20s being the primary focus this year, he also has an eye on the CARIFTA Games set for Nassau, Bahamas from March 30 to April 2.
"Preparations have been well so far and he is putting in all the extra work. So we will take one competition at a time." Williams won the boys 17-19 80m and the 300m events at the AAG's Development meet Sunday and Gravesande pointed out that Williams' 300m time of 35.57s was considerably faster than the time he recorded last year this early in the season.
The emergence of Williams in global Track and Field has been exciting to the community of Linden and the entire country. Gravesande reiterated that the home grown talent has what it takes to surpass last year's achievements.
"He has a great impact on the family and the whole community that is behind him 100 percent. I think he is going to do even better this year because he has a more positive and determined mindset than had last year."
Last year's silver medal finish at the World U-18 Championships was not enough to convince him he is the real deal. Perhaps gold medals at the CARIFTA Games and/or the World Under 20 Championships will do the trick.
Around the Web