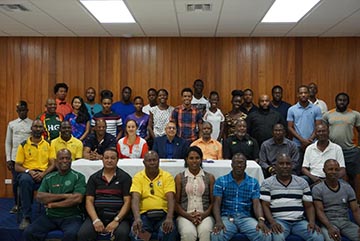 The Guyana Olympic Association (GOA) said yesterday that it was looking forward to the day when national athletes and coaches will be paid in order to adequately focus on their goals.
Yesterday, at Olympic House, Liliendaal, the first step was taken on the journey of making local full-time athletes and coaches a reality.
Through funding from the International Olympic Committee (IOC) Solidarity, the GOA has decided to disburse monthly stipends to 30 local and overseas-based athletes and 13 coaches from 10 disciplines retroactive to December 2017. The annual sum will total in the neighborhood of $18M.
According to President of the GOA, K. Juman-Yassin, the monthly stipend will vary according to individuals with a floor of $20,000 and a ceiling of $60,000.
"I have been speaking for years that our athletes and coaches need to be rewarded. It will not fully reward them but it's the first step."
He added:"Once you make the first step it's easier to make the second." He then encouraged the government "to come onboard since the resources can be pooled."
The GOA head reiterated that "this is just a start" since the list of disciplines and recipients will be expanded.
One of the association's Vice Presidents, Godfrey Munroe, pointed out  that there will be specific conditions and requirements which must be fulfilled by the recipients in order to receive the stipend.
Another VP, Dr. Karen Pilgrim, added that the timely completion of WADA whereabout forms along with attending anti-doping seminars are a few of the obligations that athletes must fulfill in order to continue to receive the stipend which will be paid out bi-monthly.
General Secretary of the GOA, Hector Edwards declared: "Today's event is one that we can all embrace and at a later time have much appreciation."  He added that the days of being a successful part-time athlete was long gone. In the same breath he stated that the GOA will do everything in its power to make local athletes successful. He also stated that it is important to be successful academically as well as athletically.
According to the Olympic Solidarity's website, the aim of the Olympic Solidarity is to organize assistance for all the National Olympic Committees (NOCS), particularly those with the greatest needs, through multi-faceted programmes prioritizing athlete development, training of coaches and sports administrators and Olympic ideals.
Below is the full list of the athletes and coaches who will be receiving GOA stipends.
Athletics' Association of Guyana
Coaches
Johnny Gravesande
Linden Phillips
Julian Edmonds
Glenton Pantlitz
Athletes
Compton Caesar
Jermaine King
Kenisha Phillips
Deshana Skeete
Chantoba Bright
Joanna Archer
Toyan Raymond
Daniel Williams
Daniel Melville
Winston George
Troy Doris
Brenessa Thompson
Kadecia Baird
Guyana Amateur Boxing Association
Athletes
Keevin Allicock
Christopher Moore
Coaches
Terrence Poole
Sebert Blake
Guyana Badminton Association
Athletes
Narayan Ramdhani
Priyanna Ramdhani
Coach
Gokarn Ramdhani
Guyana Judo Federation
Athlete
Joshua Buchanan
Guyana National Rifle Association
Athlete
Lennox Braithwaite
Ransford Goodluck
Guyana Amateur Swimming Association
Andrew Fowler
Leon Seaton
Hannibal Gaskin
Jamila Sanmoogan
Guyana Squash Association
Athletes
Mary Fung- A-Fat
Sunil Seth
Coach
Carl Ince
Guyana Table Tennis Association
Athletes
Shemar Britton
Christopher Franklin
Chelsea Edghill
Trenace Lowe
Coaches
Hillary Anderson
Idi Lewis
Guyana Rugby Football Union
Coaches
Theodore Henry
Larry Adonis
Guyana Volleyball Federation
Coach
Ms. Kirenia Ballard
Comments

Regal Masters, Speedboat and Trophy stall Angels emerged champions of their respective categories in front of a packed Zeeburg Community Centre Ground, East Bank Essequibo Sunday in the Guyana Floodlight Softball Cricket Association (GFSCA) Mike's Pharmacy, Nauth Motor Spares and Trophy Stall softball tournament.

KINGSTON, Jamaica,  CMC – Jahmar Hamilton slammed his sixth first-class hundred, but Raymon Reifer fell agonisingly short of his second, as West Indies A moved into a superior position against England Lions in the second "Test" yesterday.

Bent Street was crowned the inaugural Magnum Mash Futsal champions after they defeated Sparta Boss 3-2 on penalty kicks Sunday night at the National Gymnasium, Mandela Avenue.

Coach of the Guyana Jaguars cricket team, Esuan Crandon, says that he is pleased with his side's showing in the ongoing Cricket West Indies (CWI) Regional Super50 festival.

The karatekas were on fire Sunday at the Association do Shatokan Karate – Guyana (ASK-G) National Karate Championships at the Young Men's Christian Association (YMCA) Thomas Lands with the adult brown and black belts taking over the floor with some surprising and stunning performances in the Kata event.