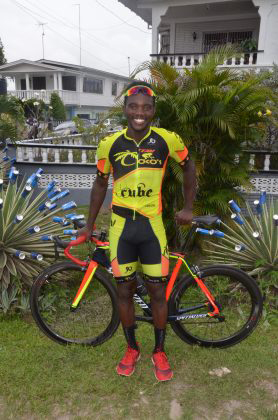 By Romario Samaroo
The cycling season commences this weekend with back-to-back races and a familiar top gun, Hamza Eastman, who recently returned to his homeland, is already raising eyebrows for the rest of the cycling fraternity.
The team Coco rider is ready to impress as he did prior to his departure to the United States of America where he also impressed with wins and vigorous training.
However, having missed a significant portion of the 2017 season, it is yet to be seen if the international stint served Eastman well.
Eastman had consistently placed in the top three (including one victory and a second place finish to Guyanese rider, USA-based Raynauth Jeffrey) in a series of races held at the Floyd Bennett Park, Brooklyn, New York.
The talented cyclist said he is ecstatic about his expected return to the local cycling circuit and opined that his training will reap its rewards come this weekend.
The 22-year-old rider will not be alone as his teammates Jamaul John, who was crowned top senior rider of 2017 and Stephano 'Sunny' Husbands, had set the track ablaze in his absence. The three now combined, will be a lot to handle come Saturday and Sunday.
The trio can expect good competition from rival club Evolution with Paul DeNobrega, the 2011 winner of the event, among the contenders to make it a second win in the event along with his club mate Marlon 'Fishy' Williams, a two-time winner of the event.
In the mix will be top riders of the We Stand United Club, Shaquel Agard and Andrew Hicks as well as Continental riders, Enzo Matthews and Geron 'lone rider' Williams with Alanzo Ambrose (Team Alanis).
Saturday's 11-stage race will be the 25th time the Ricks and Sari sponsored event will be held in the inner circuit of the National Park, Thomas Lands while the top wheelsmen will take to the roads for Sunday's Guyana Cycling Federation's first points race of the season.
The riders will take to the starting line in front of the National Sports Commission (NSC), Homestretch Avenue before heading onto Mandela Avenue then onto the East Bank highway all the way to the Linden/Soesdyke Highway to turn around at Long Creek and return on the same route back to NSC for the chequered flag, completing a gruelling 75-mile journey.
The cyclist placing first will earn himself a valuable 15 points while second to fifth place will rack up 12, 10, 8 and six points respectively.
Around the Web