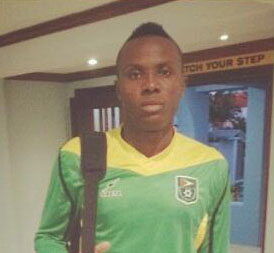 Tucville based unit Fruta Conquerors secured the first major signing of the January Transfer Window [winter transfer window] acquiring the services of Golden Jaguars international goalkeeper Akel Clarke.
In a brief interview with Stabroek Sports, the former Central FC and North East Stars standout said, "I was playing over in Trinidad and Tobago for nine years and I won the title four times, so I just decided to come back to Guyana and play with the home side, the team I started playing football with."
He added: "I just wanted to play in front of the home fans."
According to the former Fruta Conquerors Academy prospect, the club possesses the overall quality to be very successful during the season. "The expectation right now is to help Conquerors to win the Elite league and all the trophies that we compete for," he added.
According to Clarke Fruta Conquerors is one of the better teams in the country.
"I think Conquerors have one of the best teams in the country and with the players we have, it's a high possibility we can win every trophy we compete for."
Asked if the season will also be used to stake a claim for the starting berth in the national team, he declared, "Yes! The national coach is here and my chances are better for the number one spot because I am now playing at home."
Quizzed about the quality of the local game, Clarke said, "The level of football is not very high in Guyana and I think could be better but players like Vurlon Mills who have the experience of playing overseas that are coming to play back at home will bring a lot of quality to the league."
The Guyana Football Federation (GFF) Elite League is scheduled to resume February 2nd. Fruta Conquerors are currently unbeaten in the competition with two wins from as many games and sit in third place due to their goal differential.
Around the Web