The Guyana Amateur Powerlifting Federation (GAPF) will open its 2018 competition season with the annual Junior and Novices Powerlifting Champion-ship on February 4 at the Cliff Anderson Sports Hall.
The event is scheduled to attract the cream of the country's young and first time lifters who will battle for trophies and bragging rights.
Weigh-in time is 7:00hrs and the competition begins at 9:00hrs sharp.
Buddy's Gym has emerged as a sponsor to shoulder some of the responsibility for the fixture which will attract in excess of 20 gladiators.
Yesterday, Marketing Manager of the Gym, Christine Dharry presented a sponsorship pact to GAPF Committee Member and Master's One National gold medalist Nadina Taharally to help offset expenses of the competition.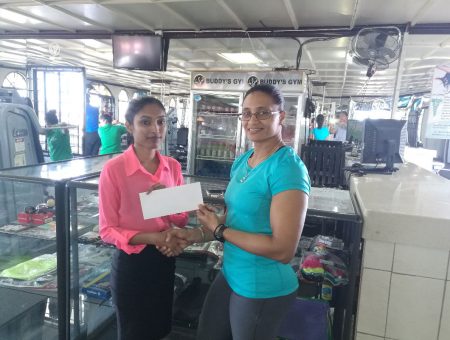 According to the Championship Secretary, Martin Webster, legendary bodybuilder, Noel Cummings, and Ede Tyrell, a Microbiologist Lecturer at the University of Guyana, are among the lifters who will be vying for top honors.
Persons who are interested in competing still have an opportunity to submit their application and pay their fees, since the closing date is January 29. Registration forms and monies can be submitted to Webster's contact number (6972244) or a screenshot of the filled out registration along with the deposit slip to the GAPLF Republic Bank Account #6552194 will be accepted as well via Whatsapp or Facebook Messenger.
Admission is $500.
Lifters are reminded that the GAPF's AGM will be held this Saturday at the Kuru Kuru College on D'Urban Street. Starting time is 09:0hrs.
Around the Web