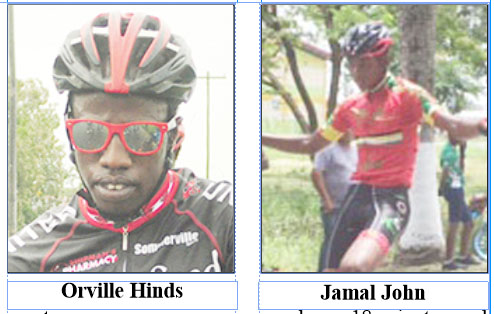 When the 2018 cycling season pedals off tomorrow in the National Park, Guyana's premier wheelsman, Jamal John along with star cyclists, Orville Hinds, Raynauth Jeffrey and Shaquel Agard will be marked men in the peloton.
John finished at the top of the points table in 2017, will further aim to bolster his stock in the saddle by continuing his winning ways this season.
Hinds, one of the faces of local cycling for the last half decade, had a down year in 2017, after being the premier rider in 2015 and 2016. He will use this season as a launching pad to return to his previous elite status.
Jeffrey who regressed somewhat last year after been plagued with injuries, will also look to re-establish his reputation. When on top of his game, Jeffrey is one of the most feared men in the saddle. He will be looking to make 2018 his year of success and redemption.
Agard, the most improved cyclist of 2016 is also poised to have another great year.
After recording several top five finishes last year, the 21 year-old will look to cement his place as one of the premier wheelsman in the 592.
He can kick start his season on a positive note tomorrow with the 25th Annual Ricks and Sari Agro Industries multi-race programme. The Hassan Mohamed organized fixture gets underway at 09:00hrs.
Last year's winner of the feature 35-lap event was Alanzo Greaves will not be in the saddle this year to defend his title. Last year, the former national rider took pole position in a brisk time of one hour, 18 minutes and 10 seconds.
Other events that will roll off include: the 12 to 14 years boys and girls (3 laps), veterans over-50 years (5 laps), veterans over-60 years (5 laps), upright cyclists (5 laps), BMX boys open (3 laps), BMX boys 12 to 14 years (3 laps), BMX boys 9 to 12 years (3 laps) and BMX boys 6 to 9 years (3 laps).
The Juveniles along with the Veterans Under-50 races are slated to be keenly contested.
Staff members of Ricks and Sari Agro Industries are expected to be on hand to assist in the presentation of prizes to the top performers.
Around the Web