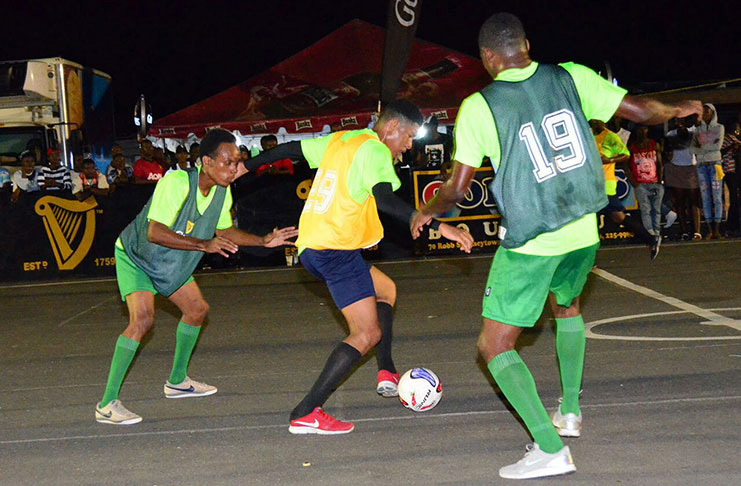 The 4th edition of the Guinness 'Greatest of the Streets' West Demerara/East Bank Demerara Zone, will officially kick-off this evening at the Pouderoyen Tarmac with 12 group fixtures.
In the opening fixture at 19:00hrs, Young Ballers will oppose Boom Bang, while West Side Ballers tackle Jetty Ballers from 19:30hrs and Mocha will clash with Agricola at 20:00hrs.
The fourth fixture will pit Ballers Empire against Asylum Youths from 20:30hrs, while Terror Squad engages Nismes Ballers at 21:00hrs, and Torture Squad match skills with Up Like-7 from 21:30hrs.
In the seventh matchup from 22:00hrs, Dream Team will engage Front Line Ballers, while ESPN will lock horns with Police-B from 22:30hrs and Veterans will battle Zeelugt FC at 23:00hrs.
The final three matches will see Harmony Ballers-A tackling Facebook Ballers from 11:30hrs, Zeelugt Warriors up against Rising Stars from 24:00hrs and defending champion Showstoppers against Admiral United at 24:30hrs.
The competition will resume on Wednesday 31st at the same venue with another 12 group matches. Harmony Warriors will engage Police-A in the opening clash from 19:00hrs, while Gold-Getters opposes Parfait Harmony at 19:30hrs and Cayenne Massive engages Agricola Gas Team from 20:00hrs.
In the fourth showdown from 20:30hrs, Hustlers will match skills with Brothers United, whilst Boom-Bang opposes West Side Ballers at 21:00hrs and Young Ballers will tackle Jetty Ballers from 21:30hrs.
The seventh contest will pit Mocha against Ballers Empire from 22:00hrs, while Asylum Youths will tackle Agricola at 22:30hrs and Terror Squad will faceoff with Torture Squad from 23:00hrs.
In the 10th fixture at 23:30hrs, Up Like-7 locks horns with Nismes Ballers, while ESPN will match skills with Front Line Ballers from 24:00hrs and Police-B will oppose Dream Team at 00:30hrs.
The tournament, which features 32 teams, will be conducted via the group stage format in the first round. Upon the conclusion of this stage, the top two finishers in each of the eight groups will advance to the knockout round.
The Pouderoyen Tarmac will serve as the venue for the entirety of the championship. The other playing dates are February 2nd, 7th, 9th, 13th and 17th.
Winner of the tournament will pocket $400,000 and the championship trophy. On the other hand, the runner-up will receive $200,000 and the corresponding accolade.
Around the Web